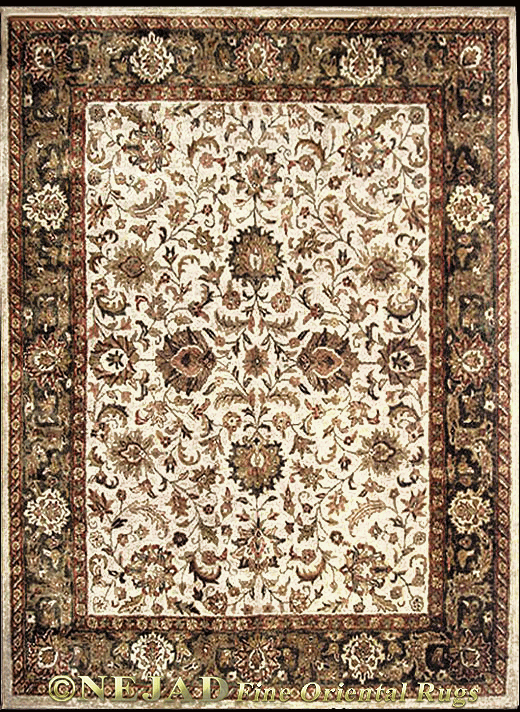 Color/Brightness may vary due to computer monitor/device settings.

COLLECTION:
Signature Heirloom
STYLE:
Tabriz All Over
DESIGN# - COLOR:
M037 - Antique Ivory / Sage
DESCRIPTION:
An exquisite combination of exceptional weave, magnificent design,

&

gorgeous color palettes, this heirloom-quality rug is expertly hand-knotted by the most skilled weavers, taking as long as one month to create one foot in length.
Only the highest quality hand-spun vegetable dyed New Zealand wool is used, creating a rich lush pile that is velvety to the touch.
The design is a perfect balance of open field, center medallion, spandrel corners, and accenting floral motifs.
| SIZES | SHAPE | RUNNER |
| --- | --- | --- |
| 2' × 3' | rectangular | |
| 2' × 4' | rectangular | |
| 2' 6" × 6' | rectangular | √ |
| 2' 6" × 8' | rectangular | √ |
| 2' 6" × 10' | rectangular | √ |
| 3' × 5' | rectangular | |
| 4' × 4' | round | |
| 4' × 6' | rectangular | |
| 5' × 5' | round | |
| 5' × 7' | rectangular | |
| 6' × 6' | round | |
| 6' × 6' | square | |
| 6' × 9' | rectangular | |
| 8' × 8' | round | |
| 8' × 10' | rectangular | |
| 9' × 12' | rectangular | |
| 10' × 10' | round | |
| 10' × 14' | rectangular | |
| 12' × 15' 1" | rectangular | |
| 12' × 18' | rectangular | |
< Signature Rugs | Collections >