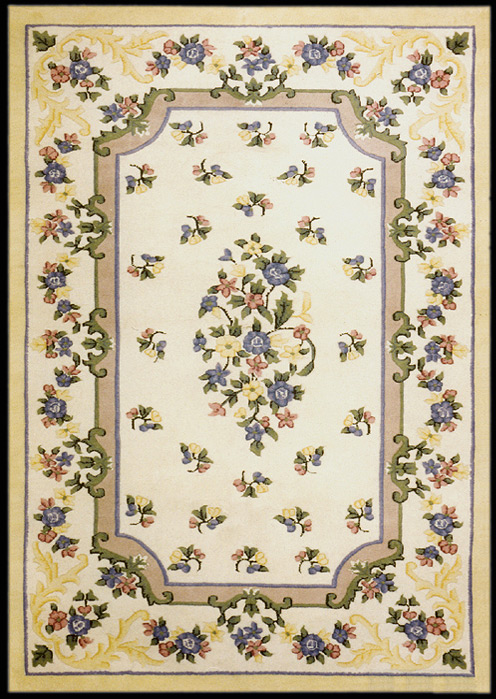 Though every attempt is made to render the rug detail as accurately as possible, we cannot assume
responsibility for apparent discrepancies due to computer monitor settings.

COLLECTION:
Floral Garden
STYLE:
Floral Aubusson
DESIGN# - COLOR:
T003 - Ivory / Yellow
DESCRIPTION:
The Floral Garden Rug Collection is a wonderful collection of expertly handmade rugs featuring beautiful flowers and decorative garden motifs in rug designs perfect for today's classic and casual interiors.
This collection is offered at remarkable prices.
Hand-Tufted made of 100% Wool.
Imported from India and China.
| SIZES | SHAPE | RUNNER |
| --- | --- | --- |
| 2' × 3' | oval | |
| 2' × 3' | rectangular | |
| 2' 6" × 6' | rectangular | √ |
| 2' 6" × 8' | rectangular | √ |
| 2' 6" × 10' | rectangular | √ |
| 3' × 5' | oval | |
| 3' × 5' | rectangular | |
| 4' × 6' | oval | |
| 4' × 6' | rectangular | |
| 5' × 5' | round | |
| 5' 6"' × 8' 6" | oval | |
| 5' 6"' × 8' 6" | rectangular | |
| 6' 6"' × 8' 6" | oval | |
| 7' 6" × 7' 6" | round | |
| 7' 6" × 9' 6" | rectangular | |
| 8' 6" × 11' 6" | rectangular | |
| 9' 6" × 13' 6" | rectangular | |
< Floral Garden | Collections >