Nejad Rugs · 1 North Main Street · Doylestown, PA 18901 · (215) 348-1255

---
Serving the Philadelphia, Bucks County, Lehigh Valley, Princeton, & New York Area
Chelsea, Manhattan Clients Endorse Nejad Oriental Rugs . . .
"The beautiful antique Oriental Rugs at Nejad Gallery are a fraction of the prices charged by Manhattan Rug Dealers. Definitely worth the drive to Bucks County."
- Seth & Kathern M. from Chelsea in Manhattan New York
Client travels 93 Miles from New York City to Nejad Rugs in Doylestown in Search of Fine Oriental Rug . . .
A client in search of a fine Oriental rug traveled 93 miles from Kew Gardens, New York City to the Nejad Rugs Bucks County showroom in Doylestown, PA, to inspect and purchase the 8 ft. by 10 ft. hand knotted semi-antique Persian Kerman rug pictured below. After receiving photos of the rug he drove to our Doylestown, PA location where he was even more impressed with the rug in person: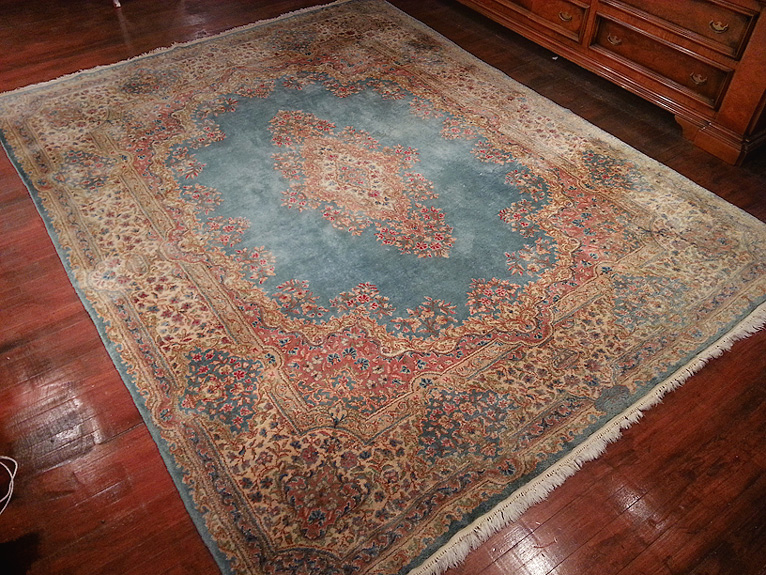 "Mr. Nejad, I just wanted to let you know that the rug looks beautiful . . . Thank you."
- Alain Gerson · Kew Gardens, New York City · Aug. 2014
Clients Travels 3½ Hours from New York to Nejad's Bucks County Showroom to Purchase Rug . . .
"As I told you when we met you and purchased this rug, it is an extremely unique rug because of the extended floral design around the central Aubusson pattern and the quality is very high, especially with the wool and silk content. I Iooked for a new dining room rug for over 1 year and this rug was in a class by itself - out of 1000's of rugs online and in stores. That's why we traveled 3½ hours to come to your store to see and buy it!"
- Barbara C. · New York · 8/29/2011
Best Oriental Rugs Philadelphia . . .
"Best Oriental Rugs Philadelphia. Nejad did a wonderful job cleaning and repairing my oriental rugs and managed to get old pet stains out that I thought were impossible to remove. I liked that they wash the rugs by hand which I do with my fine linens. I didn't want my handmade rugs run through the big washing machines everyone else seems to use. I highly recommend this company."
- Sarah Chapman · April 14, 2014
"After researching on the Internet I visited most of the Oriental rugs stores in the area and after being repeatedly disappointed I was very happy to find Nejad Rugs. The Nejad website accurately advertises their tremendous amount of inventory and high level of quality rugs - a real importer with multiple warehouses. Don't waste your time elsewhere."
- Dr. Warner · Philadelphia
Media PA Clients Post Photo of Nejad Rug on Website . . .
Clients Peter and Terry chose Nejadís artistic modern #CC010 Shades of Nature handmade wool rug in rust and gold for their home in Media PA to complement the roomís extremely high end audio visual system focal point.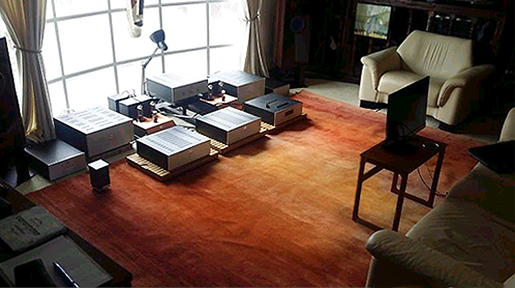 "Thanks for such a great rug..."
New York Rug Shopper Recommends Nejad . . .
"My designer brought me to this oriental rug store in Doylestown and I was not disappointed. I found a gorgeous twelve feet square rug we had been trying to find for over two years, going from store to store - including New York. The owners are extremely patient and knowledgeable. Very fair prices. Highly recommend."
- Posted by mainlainelady7 on April 26, 2013 · Yellowpages
Enormous Selection of Oriental Rugs and Really Good Prices . . .
"I knew Nejad's been around for many years and has a great reputation so after looking for about three months in New York we took the drive down to Doylestown and were stunned by the amount of rugs they have. They have rugs I saw nowhere else. We bought a beautiful dining room rug and large round rug for the foyer and had them clean my mother's rug which is going in our guest bedroom. Very happy customer."
- S.HOWARD2001 · February 28, 2015 · Center Valley, Upper Saucon, PA
"We went into Nejad rugs looking to add a new piece to our family room. Since we came prepared with the right information (sizes, colors, fabrics, and also open minds) Mr. Nejad was able to hand-pick rugs that he knew we would enjoy. This made the decision process much easier and more pleasant. We finally made our choice and we couldn't be happier with our rug, the service we received, and our overall experience at Nejad Rugs. I urge anyone looking to buy an Oriental Rug to venture there, or even if you're thinking about it, go. You won't regret it."
- Michael D. on December 14, 2013 · Yellowpages
"Driven by the store hundreds of times and always wanted to go in. Really surprised by how big it is inside and how many piles of rugs they have. Didnít know they have a second floor with furniture too ..... We bought two great rugs one for our living room and the other round rug for our entrance. I want to go back in a few months for a long runner to put on my staircase. Everyone was very nice and seemed to really love their business. This was probably the fourth rug place I checked and really appreciated that there was no hard sales pitch and no putting down competitors. My family gives Nejad a 2 thumbs up!"
- David M. · 02/07/2015
Nejad Expert Rug Cleaning and Restoration Service . . .
"Dear Mr. Nejad - I just wanted to say a big thank you for the beautiful repairs, hand re-fringing & hand cleaning on my 3 rugs. They look beautiful!
The new fringe looks elegant and amazing (even better than expected!) and the repairs were expertly done and now I cannot even tell where the damage originally was.
I am very pleased with the service I received and the love and care that was spent on making my rugs look like new! I will continue to support our local businesses and happily recommend Nejad Gallery in the future! In the meantime I will stop to say hello and have a piece of your delicious chocolate too!"
- Sincerely, Concetta M. · May 2015
"After checking all of the area's Oriental rug cleaning companies, I chose Nejad Rugs in Doylestown, Bucks County because my rugs are very important to me and I wanted the best people to wash and repair my Orientals"
- Beverly K. · Gladwyne, PA
"I'm an Oriental rug collector and know an awful lot about antique rugs. Nejad Rugs does excellent high quality repair work. I had them repair my rug and after I took it home and spent a long while carefully looking it over. I had a very hard time finding the repair"
- Client William B. from Bucks County (telling another customer)
Nejad rugs have shipped to over 1,000 destinations throughout North America . . .
"I purchased a rug from Nejad Rugs a few weeks ago.
It arrived when it was supposed to and it's absolutely gorgeous!
I love it!!"
- Deborah H. · Arlington, Virginia
Nejad Rugs #1 in Customer Satisfaction . . .
"Dear Mr. Nejad, I want to thank you for your excellent customer service, not only from you but also your employee, Mike. When I first bought a rug from you a few years ago I did not like the design so much when it was in my house and you let me pick a different one and replaced it in my home. I recently moved to Germany and Mike helped me get it cleaned and delivered it to my shipper. Every need was met with kindness and helpful attitude. I highly recommend your business to my friends and colleagues."
- Kelly Rhoades · NJ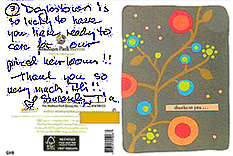 "A short note of deep appreciation for the outstanding work that you and your team did: both of my much loved Persian rugs came back from Nejad Gallery spotless, but most importantly, more vibrant in color than I have ever seen them !!!
The repair was flawless as well. Doylestown is so lucky to have you here to care for our prized heirlooms !! Thank you so much, Ali !!"
- Tia F. · Bucks County, PA
"I highly recommend Nejad Gallery because theyíve been in Doylestown for 30 years and my family has purchased many beautiful Oriental rugs from them and have been extremely happy. They have also washed my rugs several times and they always came out perfectly. Very nice people."
- Mark Strauss · July 12, 2014
"The rug fits beautifully in the place for which it was destined. Thank you for your excellent service!"
- Alan M. from New Hope, PA · 3/10/12
Nejad Rugs · 1 North Main St · Doylestown, PA 18901 · 215-348-1255 · info@nejad.com