The Most Trusted Name in Oriental Rugs
As a world recognized rug designer, rug manufacturer and rug importer, Nejad has become one of the most trusted names in Oriental rugs today. For over three decades Nejad has been the premier source for the finest quality new and antique rugs from all of the world's major rug weaving centers - featuring an incredible inventory of beautiful high quality handmade rugs to offer our customers. We import, we design and we oversee production and every step of the journey to bring the rugs to your home. Nejad is a member of the Oriental Rug Importers Association.

Designers, Manufacturers & Importers for Over Three Decades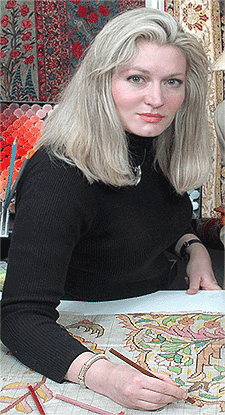 In addition to being a purveyor of a remarkable assortment and selection of investment quality classic and traditional design rugs, as well as contemporary design area carpets, Nejad is also a provider of custom order rugs for commercial projects and high end designers. Whether an emerging interior designer, a collector, or a well-established decorator, Nejad can assist you in finding the perfect rug to suit your needs! If you are looking to create a custom rug, Nejad's experienced staff of expert designers and weavers allows for any level of customization according to client specification. Our custom rugs are precision-crafted in accordance with traditional rug weaving methods and techniques and are hand woven using only 100% natural materials and dyes. These custom-manufactured rugs are 100% environmentally friendly as well as extremely durable.

Theresa Nejad is an exceptional designer of beautiful high-end transitional and contemporary carpets. Theresa has extensive experience in both the design and production of the finest quality Oriental and contemporary style rugs. Her designs have been prominently featured by major retail establishments and trade publications in both articles and advertisements.


Nejad has One of the Largest Rug Inventories in the United States
Why shop anywhere else? With two beautiful showrooms and two huge warehouse distribution centers, Nejad offers over 30,000 in-stock handmade rugs including area & room size rugs, mansion sizes, hall & stair runners, rounds, squares, ovals and many hard to find sizes. Nejad's Antique Rug showroom is considered one of the finest in the United States offering exquisite investment level Persian, Caucasian, Chinese and Turkish oriental rugs, kilims, and antique French & Flemish tapestries.

OVER 30,000 BEAUTIFUL RUGS - IN STOCK!
Find it here! Our carefully selected inventory of magnificent new and antique rugs in two expansive Pennsylvania warehouses is a veritable reference source of Oriental rug styles - a rug shopper's haven providing the prospective client an extensive sampling of the best of most all of the traditional, transitional and contemporary styles and types. Sample an unmatched assortment of the most exquisite and popular rug designs from the major rug weaving centers of the world - including a vast array of the most elegant and sophisticated rug styles such as Persian, Indian, French, Caucasian, Chinese and more.

An Enormous Selection of Investment-Quality New & Antique Persian Rugs
Nejad is the source for genuine investment-quality hand-woven Persian new and antique rugs. Find a vast selection of the most popular Persian styles and designs offered in a range of sizes - including large and oversize authentic Persian rugs. Search an array of styles including Tabriz, Heriz, Kashan, Kerman, Serapi, Sarouk, Bakhtiari, Sivas, Sultanabad, Ghoum, Mahal, Kurdish, Mohtasham, Mashhad, Gharajeh, Bidjar, Senneh, Beluch, Feraghan, Darjezin and others.

Trade Source to the Retail Industry, Designers & Architects
As a trusted and reputable dealer specializing in oriental rugs, including near-eastern and mid-eastern as well as western and contemporary design rugs and carpets, Nejad provides to the residential client, to the interior designer or to institutions such as government offices, hospitals, restaurants, hotels or casinos etc, the full range of selection with respect to style, color and size options - including custom-length hallway runners and/or expertly-installed custom staircase runners to match any existing area rug style. If we don't have it, you may not find it anywhere else.

Over 5000 Hall & Stair Runners, Rounds, Squares & Oversize Rugs
Our extensive selection allows our clients to easily mix and match rug styles, sizes, shapes and colors. Choose from an inspiring assortment of round rugs, square rugs, oval rugs and custom or fixed length rug runners. For large residential or commercial projects - involving either coordinating several rooms, fitting large rooms, conference rooms or auditoriums or where combining complementary shapes such as round rugs and rug runners is desired - rely on Nejad to find what you need and to offer guidance with your interior design projects! Nejad also provides expert custom staircase runner installation. Color, size, style or shape - always shop Nejad first!

An Entire Gallery Floor Dedicated to Antique Rugs
Acknowledged not only for their richly-exotic designs and remarkable durability, but for a functional and timeless beauty and value that endures through the ages - antique Oriental rugs and carpets are prized by knowledgeable and novice collectors alike. Nejad's impressive collection of antique, semi-antique and vintage rugs includes magnificent examples of Persian as well as Caucasian and Turkish rugs, and others - many dating back to the 19th Century. Among the most sought-after Oriental rugs are antique Persian rugs. Otherwise renowned for their distinctive and finely-woven, ingeniously-detailed designs, what truly sets these rugs apart is the artistic and aesthetic excellence attained by the artisan that is so highly esteemed by today's collectors.

Several Programmed Rug Collections Featuring Traditional to Transitional to Contemporary Design
Nejad's enormous inventory includes several exceptional program rug collections offering some of today's most-popular rug designs in many size options including rounds and runners! From the Nejad Signature Series featuring the Museum, Masterpiece, Heirloom and Traditional Collections to the American Home Series featuring the Classic, Premier, Designer and Contemporary Collections and several additional collections such as the Silk & Wool Collection, the Neo Nepal Collection, the Village Collection, Grandeur Collection and Mansion Size rugs and more - Nejad offers an extensive assortment of the most popular traditional, transitional, contemporary, beach or southwestern rug designs.

Ali and Theresa Nejad Philanthropic & Charitable Contributions
Ali and Theresa Nejad support local, national and international non-profit organizations that strive to make a positive difference in people's lives. Their significant donations, including a $50,000 gift to the Oriental Rug Importers Association Charitable Fund, have built schools in earthquake ravished areas, supported the education and healthcare of women and children in the rug producing areas of the world through CARE, the humanitarian organization fighting global poverty.

Visit Our Impressive Doylestown Showrooms in Historic Bucks County PA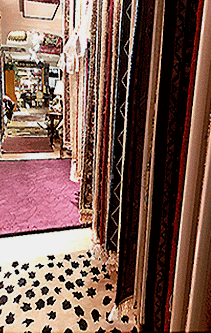 One of the most well-renowned and popular destinations for rug shoppers in the tri-state metropolitan area is the Nejad Oriental Rug Gallery showroom located in the heart of historic Doylestown in scenic Bucks County PA - mid-way between New York and Philadelphia. Established in 1985, the gallery showroom - located at 1 North Main Street - is a Mecca for rug enthusiasts, collectors and interior designers who often travel considerable distances to browse our extensive collection of antique rugs, magnificent one-of-a-kind Persian rugs, as well as several diverse collections of programmed and contemporary rugs. Come in and shop in a relaxed and comfortable, no-pressure environment featuring a beautifully presented array of one of the largest selection of rugs you will find anywhere! Update - for your shopping convenience we have now added a 2nd elegant and spacious showroom - within a 1-block walking distance - at 21 North Main Street (shown above) that, besides offering a tremendous assortment of quality rugs, also features a unique collection of classic, hard to find new, semi-antique & antique artwork and interior furnishings.

Make an Appointment to Visit Our Immense Quakertown Rug Warehouse
As part of it's commitment to excellence in customer care Nejad offers the convenience of allowing you to arrange a scheduled viewing of pre-selected rugs that most-closely suit your requirements. Your rugs can be promptly delivered and installed or you have the option of viewing your favorite selections in your residence or business location. If shipping is required, you can have your rugs shipped with confidence - Nejad has shipped to over 1,000 destinations throughout North America.

"We've built personal relationships all over the world.
We import, we design and we oversee production
and every step of the journey to bring the
rugs to your home."