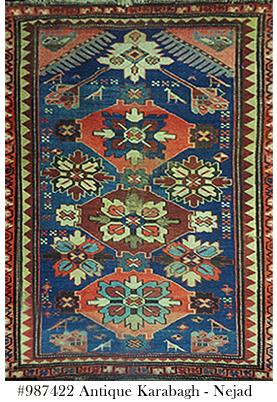 About Persian Karabagh Antique Oriental Rugs
Overview
As one of four regional rug groups recognized under the general category Azerbaijan Carpet Weaving, Karabagh rugs have recently been added to UNESCO's Representative Masterpieces of the Oral and Intangible Heritage of Humanity list. Even though this award also includes (by default) the other three groups - or schools of Azerbaijani rugmaking - namely Shirvan, Kazakh, and Tabriz - Karabakh, with the discovery of the Artsakh Armenian carpet, which dates back to the early 13th century, has the additional distinction of being recognized as one of the world's oldest rug-producing areas.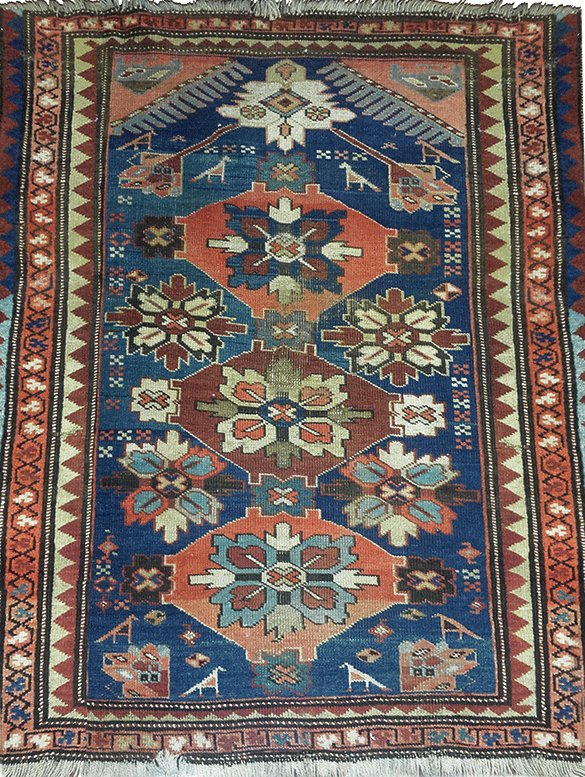 Shades of red, white and blue are featured in the complex yet delicately-balanced color scheme on this Karabagh rug.
The Karabagh Rug Style
Renowned for both artistic and technical excellence these often-large carpets feature an array of floral and botanical themes in vivid and flamboyant colors, arranged in geometrically-symmetric fashion, and each bearing the unique creative stamp - like a heraldic emblem - of the separate villages that created them. More than thirty distinctly unique Karabagh rug designs and compositions have been identified - of those some are ecclectic, derivative of Tabriz and Iranian designs, while several others are completely original.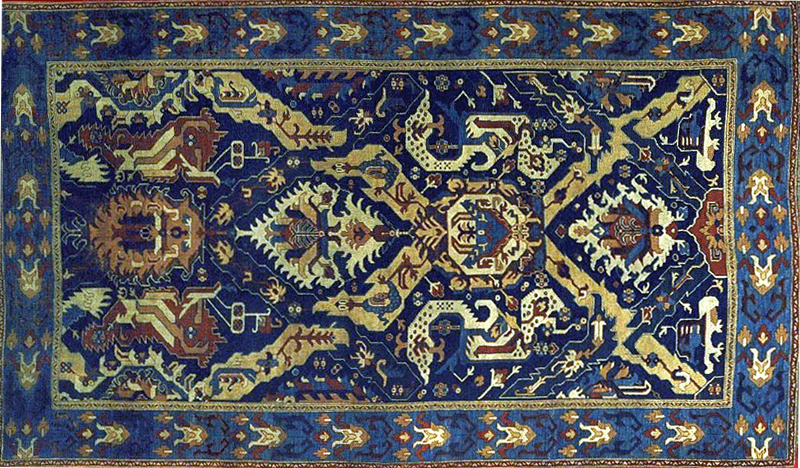 This antique Armenian Dragon Rug, produced in Karabagh (Karabakh), Azerbaijan, is a masterpiece of textile artistry.
Some of the more-common themes found in Karabagh carpets include the depiction of iconic animal specie i.e. dragons and eagles, descriptively-labelled by category: Artsvagorgs (eagle-carpets), Vishapagorgs (dragon-carpets) and Otsagorgs (serpent-carpets).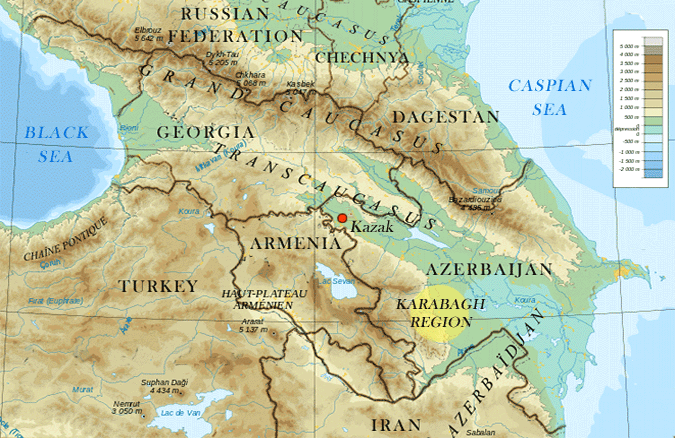 Karabagh is due north of, and adjacent to, Iran along its southern border and Armenia along its western border.
Karabagh, Azerbaijan
Karabakh is a geographic region in southwestern Azerbaijan extending from the highlands of the Transcaucasus down to the lowlands between the Kura and Aras rivers. It includes three regions: Karabakh Highlands (historical Artsakh), Karabakh Lowlands (the southern Kura-steppes), and a part of Syunik. The majority of the population is Armenian and the region is claimed independent though the political status is contested.

The Karabakh carpet school (style of carpet making) developed in two areas: in the lowland regions to the east and the mountainous highland regions to the west.
Consumer Notes
Karabakh carpets are often large in size, with an oblong rectangular shape that matched the typical interior living space of a traditional Karabagh house - where the carpets were placed on floors and walls, not only for their aesthetic value, but, as insulation against the cold as well.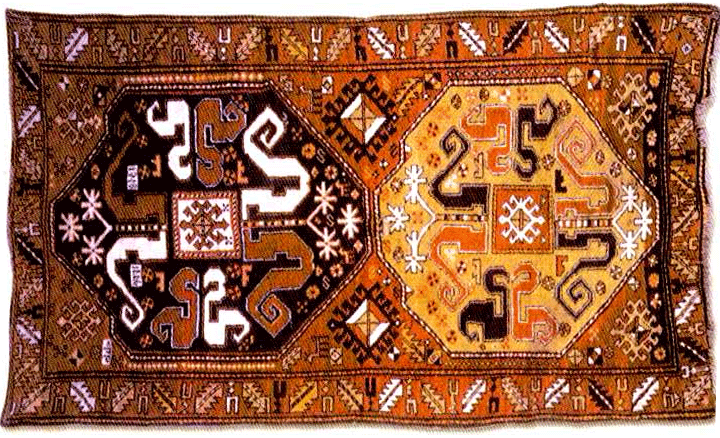 Almost Celtic in appearance this visually stunning Karabagh carpet incorporates heraldic-like motifs.

Some outstanding examples of Karabakh carpet making are presently on display in various museums of the world. A Karabakh silk carpet (zili) of the 16th or 17th century is currently at the Museum of Arts in Berlin and the Metropolitan museum in New York has in its collection a Karabakh carpet of "Verni" group.

Currently Nejad is offering the following antique Karabagh rug for sale: #987422 Karabagh


About: Tabriz Antique Rugs | Heriz Antique Rugs | Mashhad Antique Rugs | Sarouk Antique Rugs | Kashan Antique Rugs
Kerman Antique Rugs | Serapi Antique Rugs | Bidjar Antique Rugs | Karabagh Antique Rugs | Kazak Antique Rugs
Turkeman Antique Rugs | Kurdish Antique Rugs | Farahan Antique Rugs | Darjazin-Hamadan Antique Rugs
Hereke Antique Rugs | Akstafa Antique Rugs | Mudjar Antique Rugs | Chichi Antique Rugs | Dagestan Antique Rugs
Senneh Antique Rugs | Shirvan Antique Rugs | Beluch Antique Rugs | Peking Antique Rugs | Qum Antique Rugs
French Aubusson Antique Tapestry

Nejad Rugs · 1 North Main Street · Doylestown, PA 18901 · 215-348-1255