About Antique Persian Serapi Oriental Rugs
Overview
Although both renowned for their bold elegance and somewhat formal geolinear patterns, it could be said that the Serapi antique rug is more finely featured and with a finer weave (higher knot density) and a more-subtle color palette than the Heriz rug. These rug styles - both Serapi and Heriz - are popular in the west and are often used in formal and official settings such as the interiors of government buildings in the United States of America (i.e. the Capitol Building, Washington D.C.). Although from a similar template - Heriz rugs typically are more rough-hewn with a less-refined weave and stronger contrast overall than the Serapi rug. Both of their names are westernized versions of their nearby places of origin - Heris (more rural) and Sarab (more metropolitan).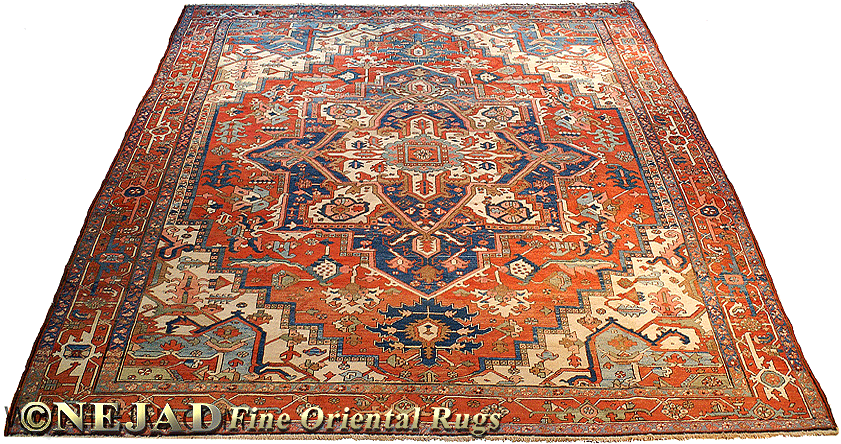 A magnificent example of a large Serapi hand-woven carpet produced for the American market around the turn of the 20th century.
This heirloom investment-quality authentic Persian Antique carpet 9' × 11.3' is now available through Nejad #987527.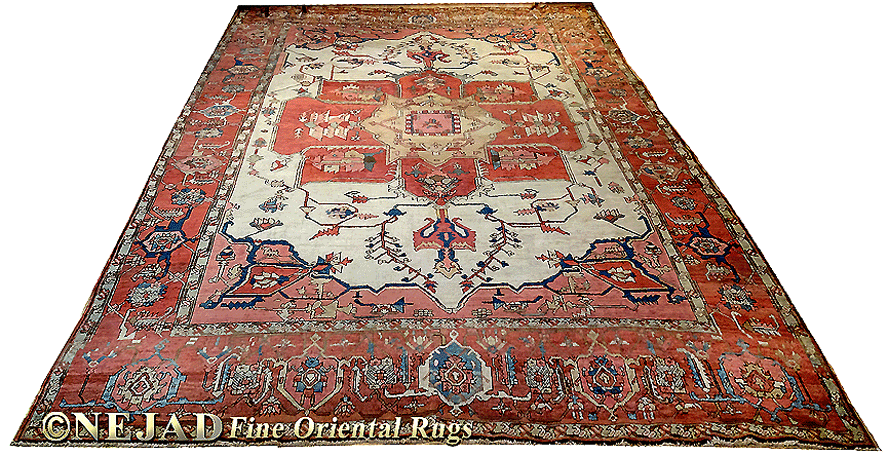 Another large and exceptional genuine Persian antique Serapi Rug c. 1890 is now being offered by Nejad Rugs #987600..
Serapi VS Heriz
Both Heriz and Serapi rugs can be readily identified by their rectilinear designs and highly stylized geometric detailing that often features a pure blue or blue and ivory large medallion on a field of deep red or terracotta. Within a knot range of 30 - 100 KPSI - Heriz on the lower end, Serapi the higher - antique Heriz rugs are usually coarser and sturdier, with bolder colors and somewhat more-angular and compact-looking woven detail while Serapi design is typically finer, less rigid looking and more spacious and open by comparison. Additionally, some scholars, do not acknowledge that there's enough difference to justify the existence of 2 separate rug categories - esp. since some workshops may have been producing both types simultaneously at around the turn of the century.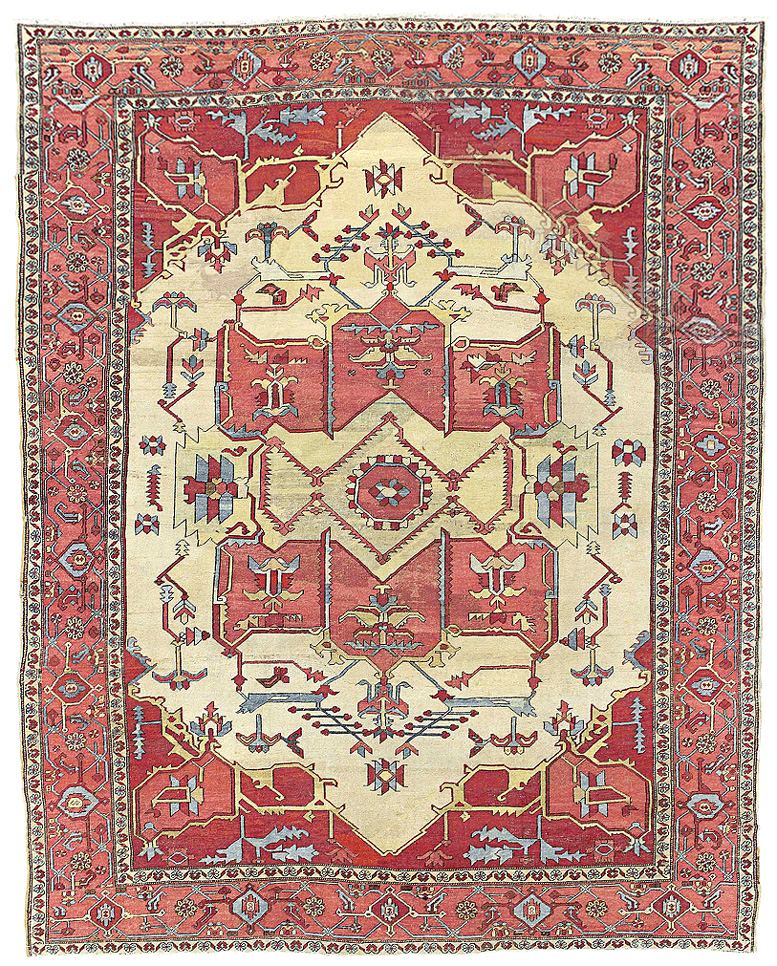 An Antique Serapi Carpet - approx: 12ft. 5in. by 9ft. 10in. (379cm. x 299cm.)
Estimate GBP 800 - GBP 1,200 Price realised GBP 3,250 [Christie's]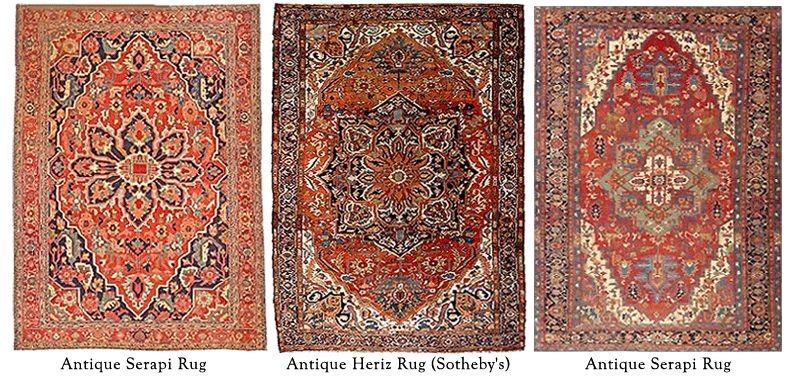 There are probably as many similarities as differences to be observed in this sampling of Serapi and Heriz antique rugs.
Although Heriz rugs were being mass-produced by the 1920s, Heriz rug production is a relatively recent - late 19th century - development that was triggered by the need to accelerate the rate of production in order to meet the ever-increasing western demand with a popular-grade product based on a proven model - the Serapi rug.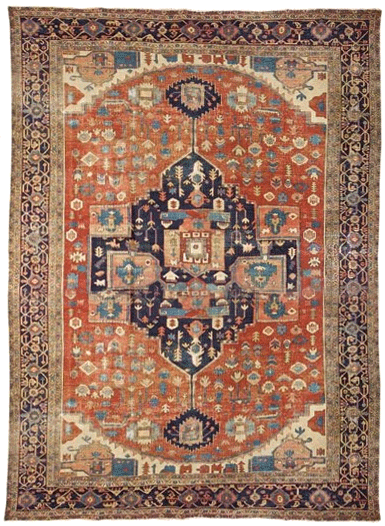 An antique Serapi carpet, North-West Persia. (15ft. 5in. × 12ft. 3in.) ... Christie's - London
"The shaded light rust field with angular palmettes and hooked leaves around large stepped
indigo medallion with bold hooked palmette pendants ... bold palmette cartouches enclosing
dusty-pink panel centrepiece ... some wear, areas of old repairs, localized tinting."
Sarab, Iran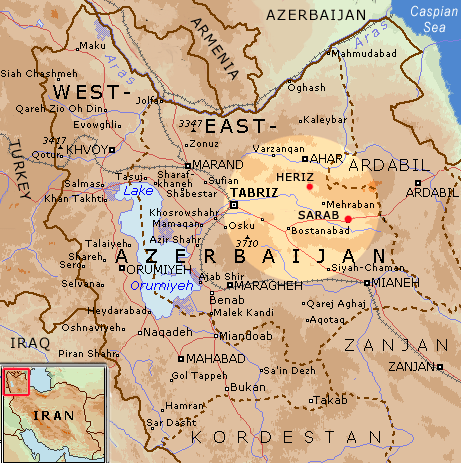 Heriz and Sarab are both located in Sarab County.
A city rich in history and renowned for its rugmaking, Sarab is the capital of Sarab County, East Azerbaijan Province, northwest Iran, and with a population of nearly 50,000 is nearly 5 &times larger than Heris.
Consumer Notes
The current market value of an antique Serapi - or Heriz - may be determined by factors such as singularity and uniqueness - namely rarity! Add intangibles such as aesthetic appeal, and artistic merit - not excluding technical considerations such as quality of materials and weave density - and last but not least - overall condition! - the selling price at auction can range from several hundreds (for a more common type) to the tens of thousands of dollars for the exceptional 1-of-a-kind piece.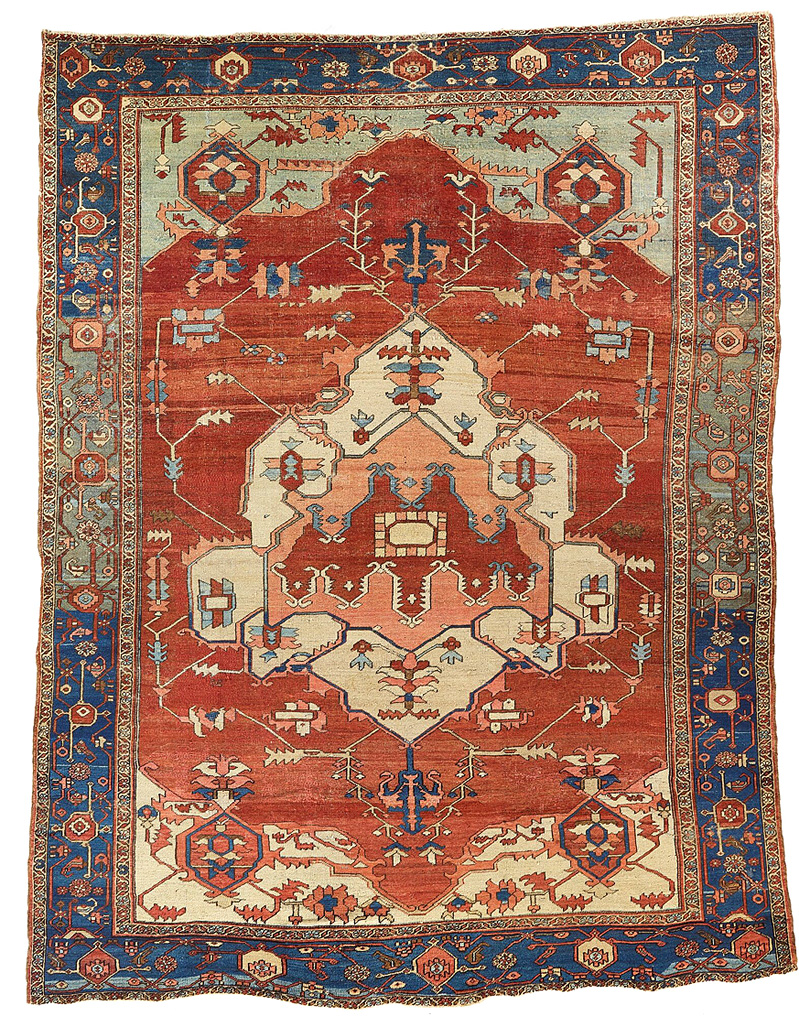 A Serapi Carpet, Heriz district, Northwest Persia late 19th century - approx. 12ft. 4in. by 9ft. 10in.
Estimate 3,000 - 5,000 GBP | 06 November 2018 | Christie's - London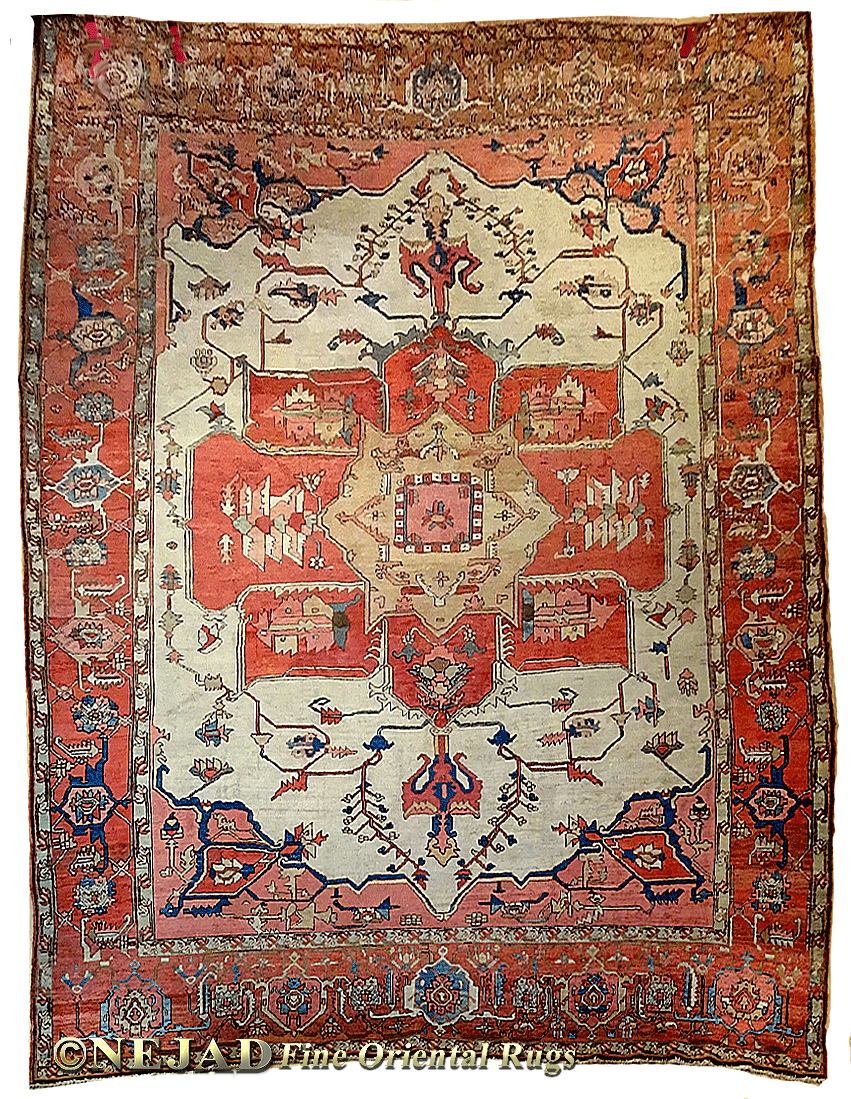 Large, and in very good condition, antique Persian Serapi carpet c. 1890 now being offered for sale - Nejad Catalog #987600..
Though the design motifs are similar to those in Heriz rugs - both of which were produced in the 19th Century in the same region - Serapi are typically more subtle in both color and design featuring more curvelinear patterns - rendered in terracotta reds, ivories, soft blues, pinks and light greens. These rugs have historically been the carpet of choice in early American state and federal buildings, including the White House.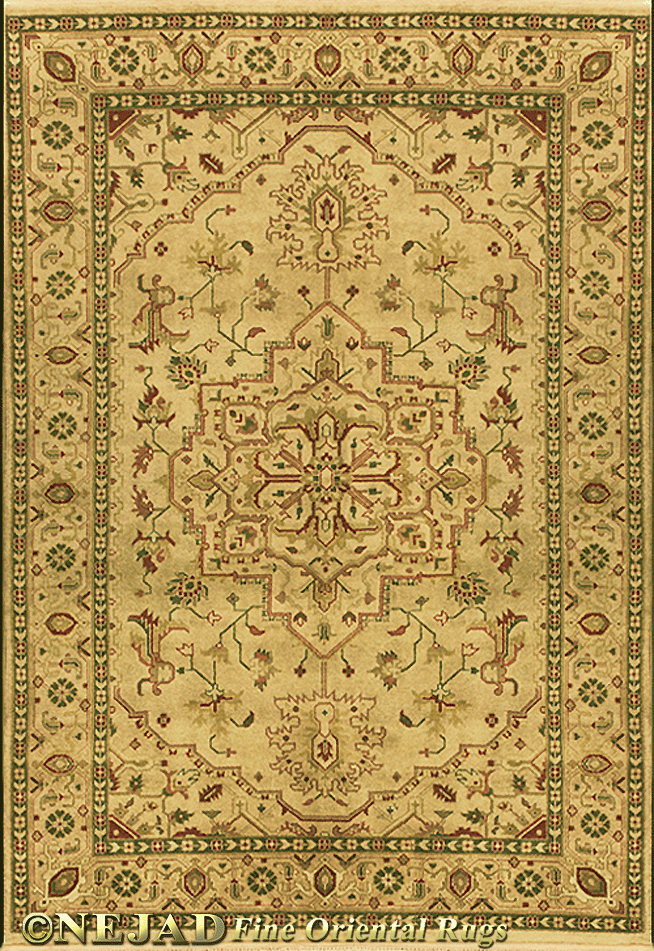 The Golden Serapi rug by Nejad (#M004GOGO) is featured in the Nejad Signature Heirloom Collection.
The highly sought-after Antique Serapi carpets have become increasingly difficult to find in the market. Comparatively rare due to more limited quantities produced, these rugs are typically of finer quality than the Heriz rug, and hence, usually command a higher market price at auction.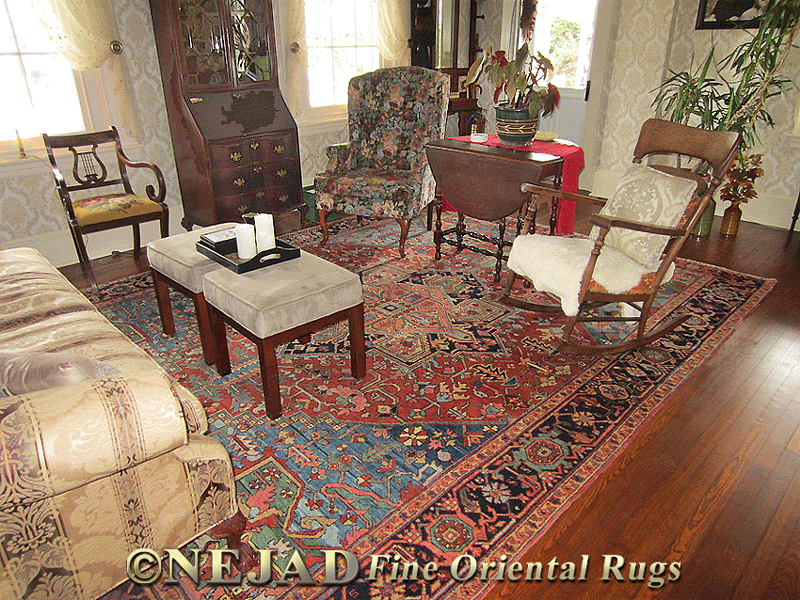 This impressive room-sized classic Persian Serapi carpet from Nejad's antique rug collection featured in a client's living room.
Currently Nejad is offering the following antique Serapi rugs for sale:
#987527 Serapi | #987527 Serapi | #987600 Serapi


About: Tabriz Antique Rugs | Heriz Antique Rugs | Mashhad Antique Rugs | Sarouk Antique Rugs | Kashan Antique Rugs
Kerman Antique Rugs | Serapi Antique Rugs | Bidjar Antique Rugs | Karabagh Antique Rugs | Senneh Antique Rugs
Bakhtiari & Antique Bakhtiari Rugs | Nain and Antique Nain Persian Rugs | Ziegler Mahal Antique Persian Rugs
Esfahan & Antique Esfahan Rugs | Qum Antique Rugs | Farahan Antique Rugs | Darjazin-Hamadan Antique Rugs
Hereke Antique Rugs | Akstafa Antique Rugs | Antique Gharajeh Rugs | Chichi Antique Rugs | Mudjar Antique Rugs
Kazak Antique Rugs | Shirvan Antique Rugs | Beluch Antique Rugs | Peking Antique Rugs | Kurdish Antique Rugs
Turkeman Antique Rugs | Dagestan Antique Rugs | Flemish Antique Tapestry | Antique Ming Chinese Rugs
French Aubusson Antique Tapestry - after Francois Boucher