About Persian Kerman Antique Oriental Rugs
Overview
When Sotheby's or Christie's puts a rug - or any piece of art - up for auction, they will always provide documentation (in the form of a catalogue entry) which serves as an informative guideline to any would-be-bidder. The information provided is usually accurate and technically correct, including: photos of the item, when, where and by whom it was produced and an estimate of the current market value or projected sale price - as well as a detailed description.
On April 15, 2010, at King Street in London, a 5' × 11' 300+-year-old Antique Persian Kerman rug went up for auction with an estimated value of $307,600 - $461,400 (£200,000 - £300,000). The following is an excerpt from the catalogue description provided by Christie's:
"This carpet provides yet another piece of evidence for the theory that the weavers of Kirman in the seventeenth century were the most inventive and influential of all carpet designers in the history of the Persian carpet."
The carpet sold at auction for an unprecedented $9.59 million (USD) - £6,201,250.
Then, in June of 2013, the following watershed event in the annals of antique carpet buying history occurred:
The magnificent 16th-century Persian Kerman carpet ( 8' 9" × 6' 5" ) pictured below - known as The Clark Sickle-Leaf Vase Carpet - sold for more than $33 (USD) million at Sotheby's, New York.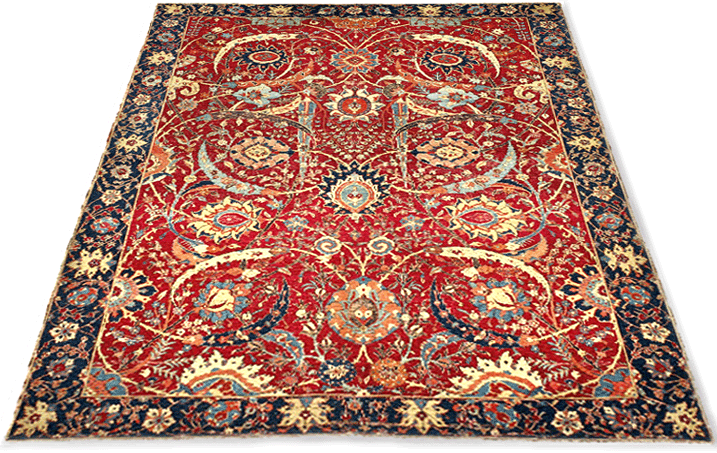 Investment Quality Rugs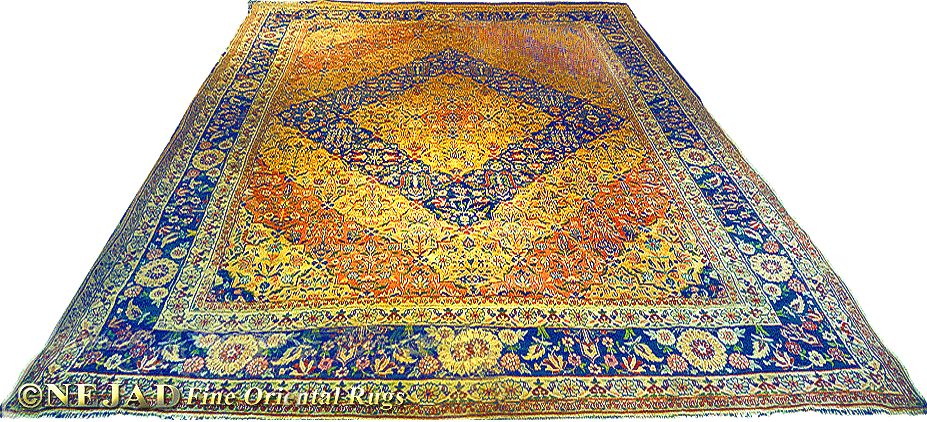 An investment-quality 10' &times 14' antique Persian Kerman carpet in excellent condition currently being offered by Nejad Rugs.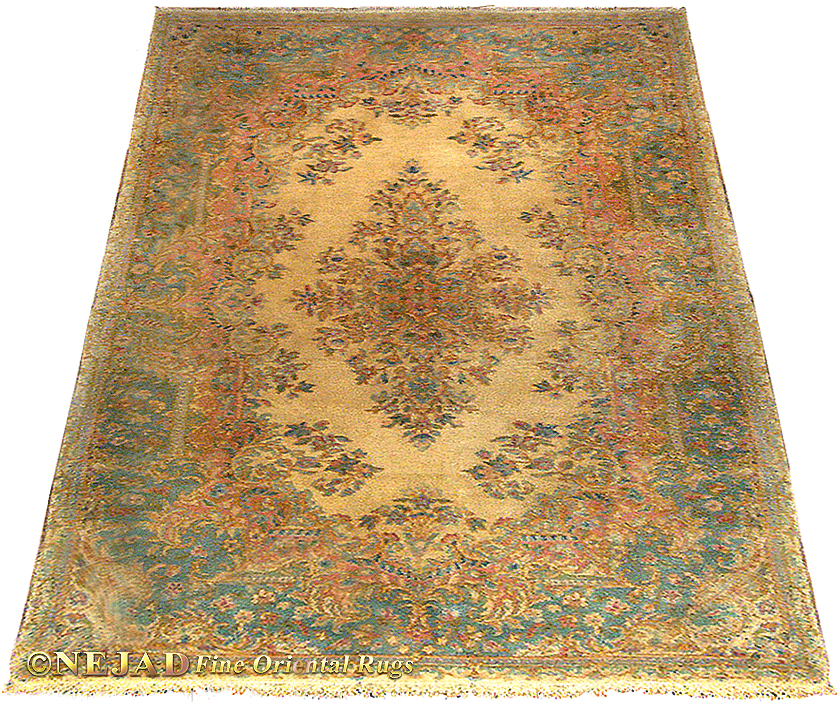 An investment-quality antique Persian Kerman Rug c. 1930 - Nejad #21991 in excellent condition (13 ft. 8 in. length)
Other than it's provenance and expected high quality of construction, the hallmark of the Kerman carpet that elevates it to art-level quality or museum-level quality status, is, as much as anything else, the often-elaborate yet unique, even visually-stunning, design examples frequently found in this group. In referring to the Clark sickle-leaf antique Kerman carpet pictured above, author Arthur Upham Pope A Survey of Persian Art writes:
"The Clark-Corcoran carpet is ... surely one of the outstanding examples of Persian carpet weaving."
Furthermore, in it's catalogue description of this rug for auction Sotheby's states:
"The tremendous vitality of this carpet's design is achieved through its highly complex network of swirling vines, which intertwine and overlap each other and flowering or fruit-laden branches ..... depicted in a rich array of vivid color and executed with a crispness of drawing that demonstrate the superiority of the carpet's weavers and designers."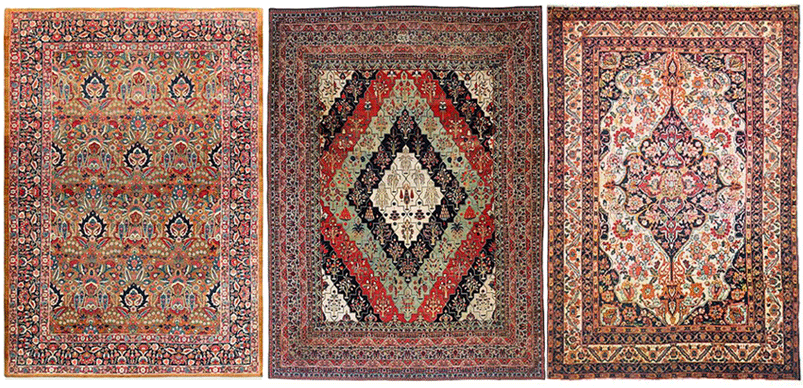 Three unique and distinctively different, yet comparable, examples of the Kerman rug style.
The Kerman Rug Style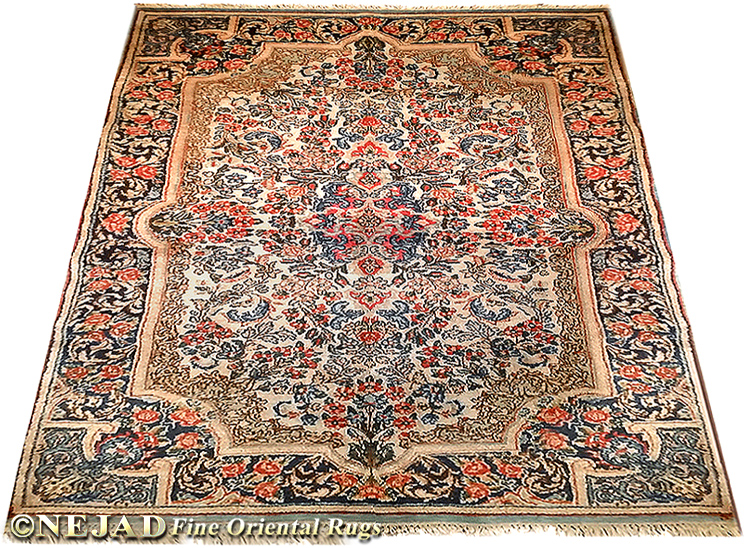 An extraordinary 3' &times 5' antique Persian Kerman carpet c. 1920 in excellent condition currently being offered by Nejad.
Unique yet classically elegant with often-elaborate yet subtle, intricately-interwoven patterns rendered in harmonious, muted color schemes - no other rug style has aged as well, perhaps - as this rug style. Kerman rugs are distinctive, desireable - and, if in good condition, valuable. The antique Kerman carpet can be found in a diversity of designs - from established Persian to western themes - that range from various repetitive motifs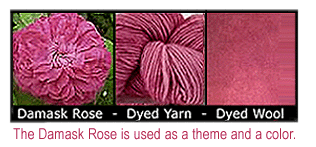 including vase, striped, lattice and allover, dense floral or botanical patterns to large medallion format, as well as pictorial designs that feature portraits or classical paintings, and typically woven in color-palettes that may include ambers (gold), muted reds (Damask), indigo, antique ivory, khaki and bluish-grays. Even though no two Kerman rug designs are precisely alike, many of the rugs produced in the Kerman region have at least one feature in common - the Damask rose, whose flower is not only used as a figurative motif incorporated into the rug design itself, but is also the source for the magenta-like red color dye obtained from the local flowering plants.
The Pictorial Kerman
The example (below) of a very finely woven Kerman pictorial carpet incorporates a reproduction of the brilliant French artist Jean Antoine Watteau's painting Fêtes Vénitiennes (c. 1718) as it's centerpiece, and features a very high knot density of 1,122 knots per sqare inch (1,122 KPSI) - probably required in order to render this level of detail. Woven in Kirman in 1909 using Watteau's nearly 200-year-old artwork as a model (though considerably modified), this textile facsimile was commissioned by the Governor of Kirman Province, Abdul Husain Mirza, and now resides in the prestigious Victoria & Albert Museum in London, only a few hundred miles from the original painting at The National Gallery of Scotland, Edinburgh.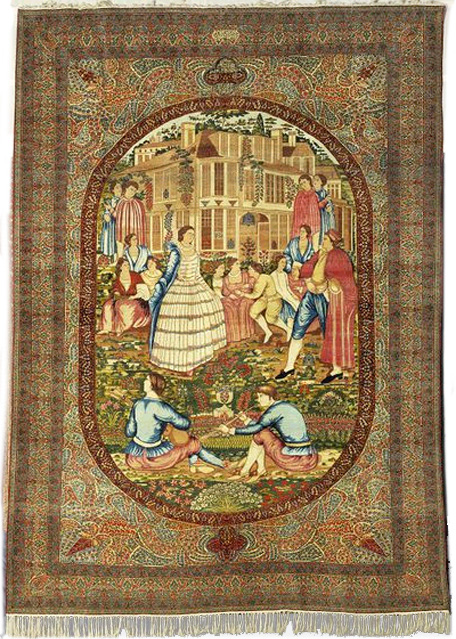 Kerman, Iran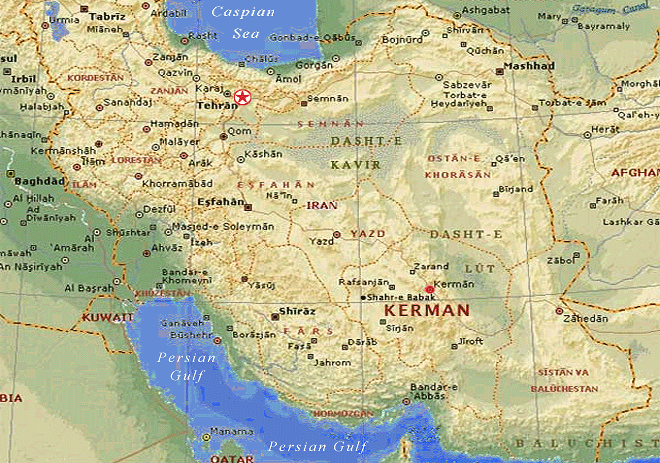 Kerman was a major trade emporium linking the Persian Gulf (south) with Khorasan (north) and Central Asia (east).
The term Kerman, as in Kerman carpet refers to the traditional Persian rugs made in and named after the city located in southeast central Iran - Kerman, a major center for the production of high quality carpets since at least the 15th century. Founded as a defensive outpost by Ardeshir I, founder of the Sassanid Empire, in the 3rd century, Kerman (Kirman; also known as Carmania) is the capital city of Kerman Province - and with a population ¾ million is the 10th most populous city in Iran. When Marco Polo visited Kerman in 1271, it was an established major trade emporium linking the Persian Gulf, in the south, with Khorasan, to the north, and Central Asia to the east. In the 18th century, some authors considered the Kerman carpets produced in this area to be the finest of all Persian carpets. The city, however, as well as the carpet weaving industry, was utterly destroyed by Agha Mohammad Khan in the military seige of 1794. The present-day city of Kerman was rebuilt in the 19th century to the northwest of the old city.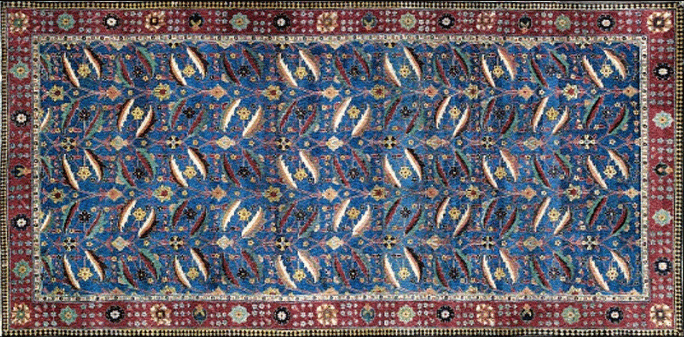 This 11' 1" × 5' mid-17th century Kerman Vase carpet was sold at auction by Christie's for $9.5 Million dollars.
Consumer Notes
Kerman rugs are prized by collectors for a myriad of reasons, including but not limited to: an impressive range of often elaborately-detailed yet unique designs, utilization of natural dyes and high-quality durable fibers as well as exceptional color combinations - many that feature a predominant a gold-colored or monochromatic gold theme such as the amber gold border and border guard with amber gold floral-patterned field in the following example from Christie's.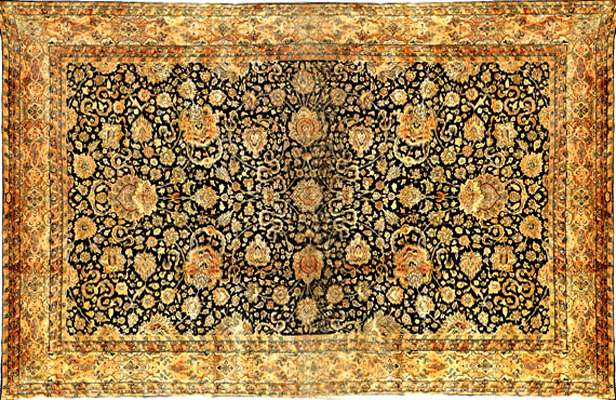 This gold-themed magnificent early 20th century Kerman Persian carpet was sold at auction by Christie's.
It is not unusual to find a Kerman rug of even a few hundred years of age in very good or near-perfect condition, hence these rugs not only retain their value but can appreciate in value exponentially. So far there are no other rugs that have fetched the kind of returns at auction as have antique Kerman Persian rugs - and those specimens were not of particularly large size.

Some of the more famous Kerman carpet producers of the 19th century include Costigian, Ghastili and Dilmaghani, the latter still in operation and whose rugs are identifiable by their (Crown) trademark.

Nejad Rugs of Doylestown, Pennsylvania - designers, importers & manufacturers of fine Oriental rugs - is a dealer and appraiser of fine antique Persian rugs and carpets.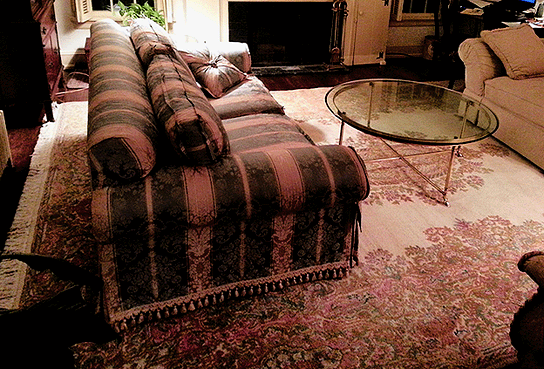 This room-sized semi-antique Persian Kerman carpet is being offered by Nejad Rugs of Doylestown, PA.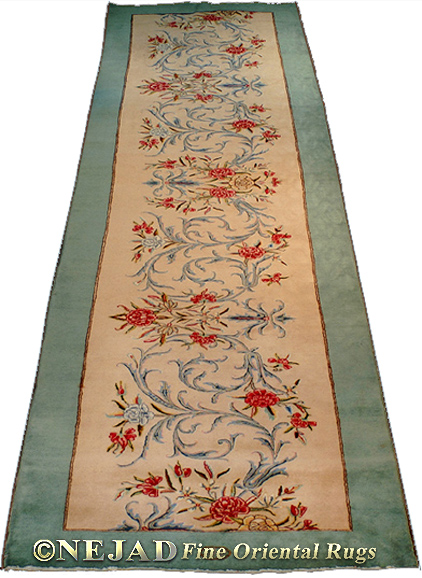 Fine-quality 13' 8" l. antique Persian Kerman runner c. 1930 - Nejad stock #100081
Additionally Nejad is offering the following antique Kerman rugs for sale:

#100081 Kerman | #21991 Kerman | #987640 Kerman | #1920 Kerman


About: Tabriz Antique Rugs | Heriz Antique Rugs | Mashhad Antique Rugs | Sarouk Antique Rugs | Kashan Antique Rugs
Kerman Antique Rugs | Serapi Antique Rugs | Bidjar Antique Rugs | Karabagh Antique Rugs | Kazak Antique Rugs
Turkeman Antique Rugs | Kurdish Antique Rugs | Farahan Antique Rugs | Darjazin-Hamadan Antique Rugs
Hereke Antique Rugs | Akstafa Antique Rugs | Mudjar Antique Rugs | Chichi Antique Rugs | Dagestan Antique Rugs
Senneh Antique Rugs | Shirvan Antique Rugs | Beluch Antique Rugs | Peking Antique Rugs | Qum Antique Rugs
Nain Persian Rugs | Ming Chinese Rugs | French Aubusson Antique Tapestry