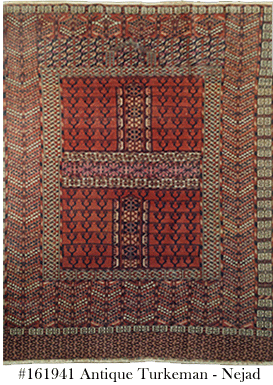 About Turkeman Antique Oriental Rugs
Overview
Moving almost a thousand miles west to east across the nearly-20,000 foot snow-covered white peaks of Europe's highest mountain range - the Caucasus - and continuing eastward across the 200 mile or so width of the Caspian Sea, the topography - once having reached the shoreline on the other side - abruptly changes - giving way to a vast expanse of desert and a country consisting mostly of black sand - Turkmenistan. One of the Turkic states of Central Asia whose territory has been at the crossroads of civilizations for centuries, Turkmenistan was an historically-important link on the Silk Road trading routes connecting Persia with China and the Far East.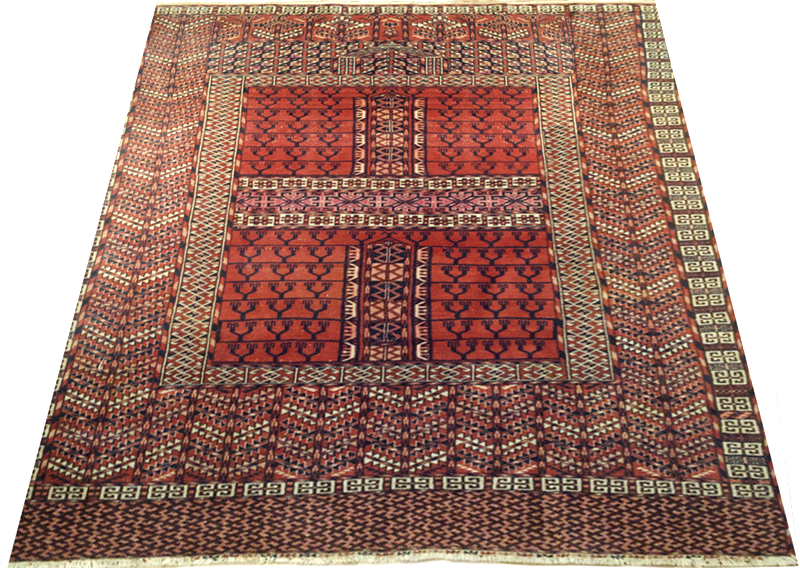 This 4' × 5' antique Turkeman carpet - in excellent condition - is currently being offered by Nejad Rugs.
The Turkemen Rug Style
The Turkmen rug (Türkmen haly - or Turkoman carpet) can be found in various patterns that typically employ allover geometric designs or repeated ornamental figures and that vary based on their place and tribe of origin. Among the most famous of those - Yomut, Saryk, Salor, Ersari and Tekke - the Teke design pattern, probably the most common one, is often referred to as the Bukhara print design (also Bokhara) and usually features an alternately-occurring 2-tone - i.e. ivory and madder root - set of spheroid or modified cuboid (also diamond-shaped) figures presented in rows and columns against a solid background color of cardinal red.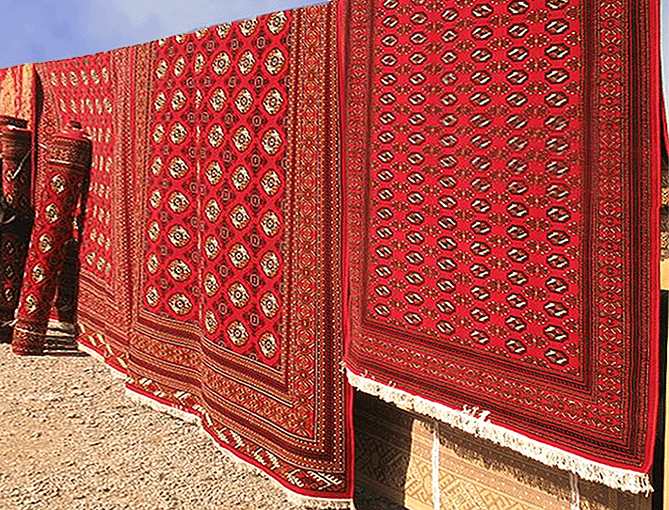 Contemporary Turkemen style Bokhara carpets on display at an outdoor bazaar in Turkmenistan.
Instead of the predominant red field (as seen on the rugs pictured above), a similar Bokhara design may use an ivory background - with ochre, madder and indigo detailing, for instance. Another popular Turkeman rug style, Ersari, features an octagonal-shaped elephant's foot design. These rugs have a fashionable elegance and coordinate well with classic architectural elements and interior arrangements.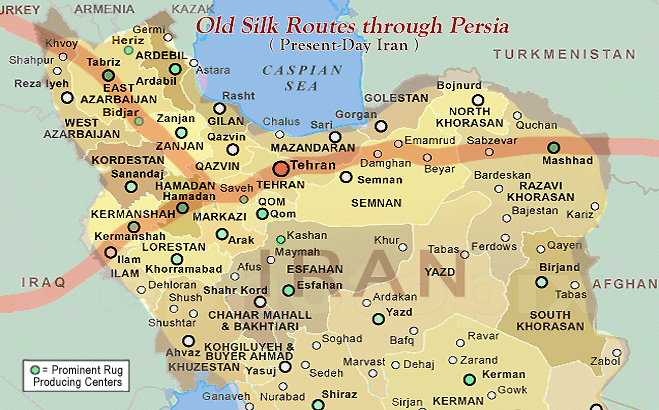 Turkmenistan is bordered in north by Kazakhstan and Uzbekistan, and in the south by Afghanistan and Iran.
Turkmenistan
By the end of the 20th century, carpet weaving in Turkmenistan had become one of the most important sectors of the economy. In 1992, Turkmen Carpet Day was officially declared a national holiday, and in 1993 a Presidential decree established the Turkmen Carpet Museum - one of the cultural centers of Turkmenistan, where up to 2,000 carpet exhibitions have been held.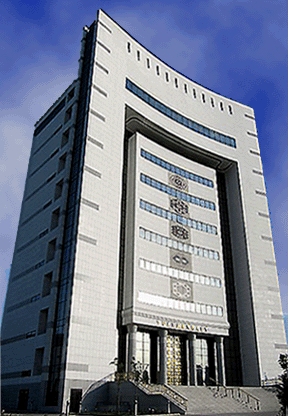 The Turkmen Carpet Museum houses some of the finest examples of Turkmen rugmaking.
The state-sponsored Turkmenhaly, with its own Ministry of Carpets, is a major supplier and exporter of pure wool pile, hand-made Turkmen carpets from Turkmenistan. Besides production and sales, the principal activity of this government administrative branch consists in the preservation of the traditional methods of carpet making as well as the restoration of old carpets.

Though carpet-making is an integral part of Turkmenistan culture, the basic undiversified economy is powered by the export of a single - not ground, but rather, undergound-based - commodity, natural gas, of which it is the world's fourth largest supplier. As a benefit, all Turkmenistan citizens currently receive government-provided electricity, water and natural gas - free of charge.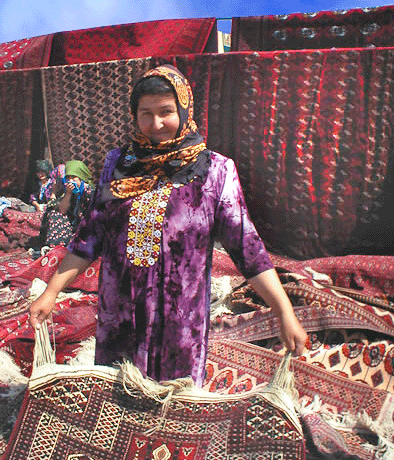 A local carpet and textile market near Ashgabat selling Turkmen Bukhara rugs and bags.
Consumer Notes
Historically, although larger rugs were produced in the villages, Turkmen rugs were produced by nomadic tribes almost entirely with locally-obtained materials, and, thus, the sizes of such rugs would be limited to what could be woven on a portable loom. The earlier part of the 20th century saw the appearance of more large-rug production facilities as well as the introduction of synthetic dyes.

Additionally, many Afghan rugs, particularly those made for export, bear a strong resemblance to, or are outright copies of, Turkeman - usually Bokhara - rug designs.

Currently Nejad is offering the following antique Turkeman rug for sale: #161941 Antique Turkeman

About: Tabriz Antique Rugs | Heriz Antique Rugs | Mashhad Antique Rugs | Sarouk Antique Rugs | Kashan Antique Rugs
Kerman Antique Rugs | Serapi Antique Rugs | Bidjar Antique Rugs | Karabagh Antique Rugs | Kazak Antique Rugs
Turkeman Antique Rugs | Kurdish Antique Rugs | Farahan Antique Rugs | Darjazin-Hamadan Antique Rugs
Hereke Antique Rugs | Akstafa Antique Rugs | Mudjar Antique Rugs | Chichi Antique Rugs | Dagestan Antique Rugs
Senneh Antique Rugs | Shirvan Antique Rugs | Beluch Antique Rugs | Peking Antique Rugs | Qum Antique Rugs
French Aubusson Antique Tapestry