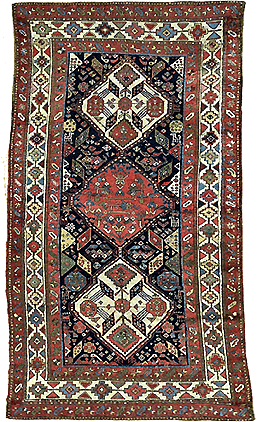 Antique Persian Qashqai Oriental Rugs
Overview
In the southwest corner of Persia (present-day Iran) in the province of Fars, and near the cultural hub of it's capital city Shiraz, live the Qashqai. Pastoral nomads who migrate twice annually with their flocks of sheep - they move between pastures from the Persian Gulf in winter, to the Zagros mountains in summer. Harvesting their own wool from their flocks and extracting their own dyes from the local plants, these nomadic artisans and weavers practiced a centuries-old tradition of rugmaking - renowned for such exquisite works of textile artistry that have survived the passage of time intact ... Qashqai Tribal Rugs.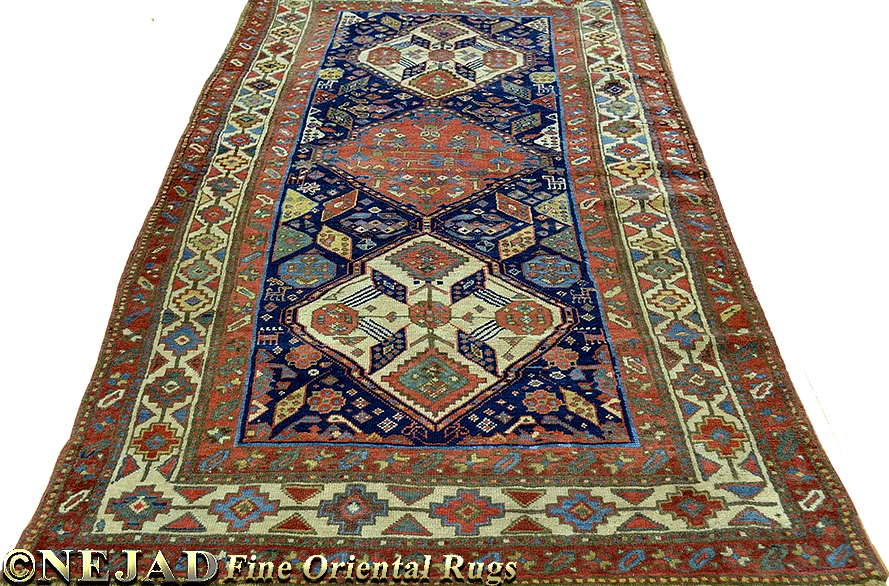 This unique and impressive antique Persian Qashqai carpet is currently being offered by Nejad Rugs of Doylestown, PA.
Antique Qashqai Rugs
The typical design scheme of the Qashqai carpet may consist in the use of a geometric or diamond-shaped centerpiece medallion - or dual, or even several medallions - or a repeated all-over design pattern, featuring bold, geometric designs with finely-detailed borders. A sampling of the range of diversity found in these carpets can be seen in the examples of fine antique pieces sold at auction by Christie's (as seen below).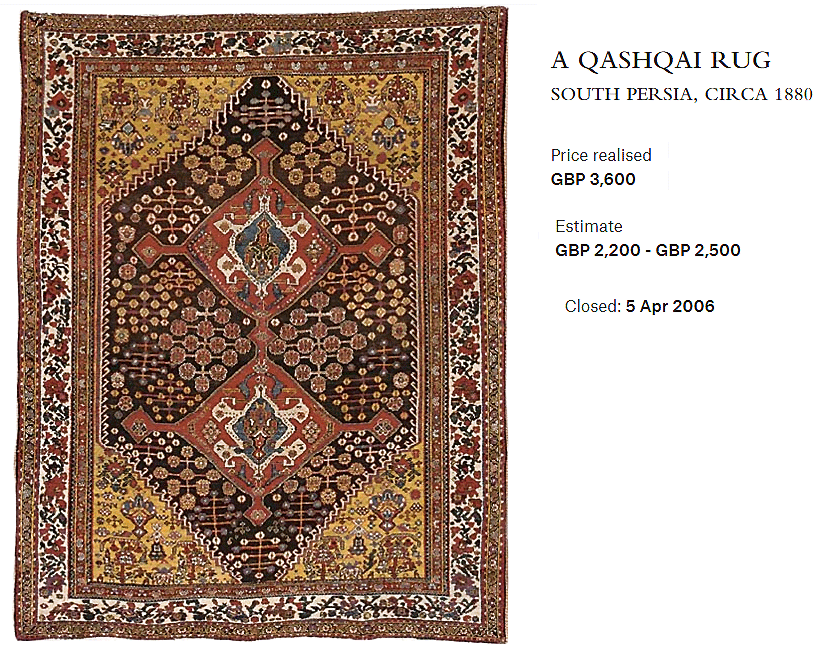 5' 10" × 4' 7" Qashqai rug c. 1880 with 2 diamond-shaped medallions and strong geometric composition -
Christie's - London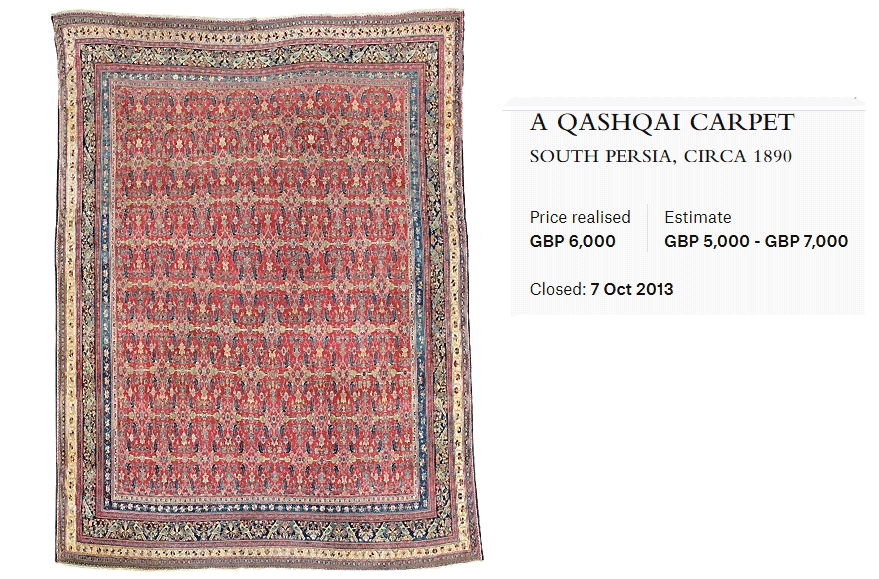 Large 16' 2" × 12' 3" Qashqai carpet c. 1890 with repeated all-over pattern -
Christie's - London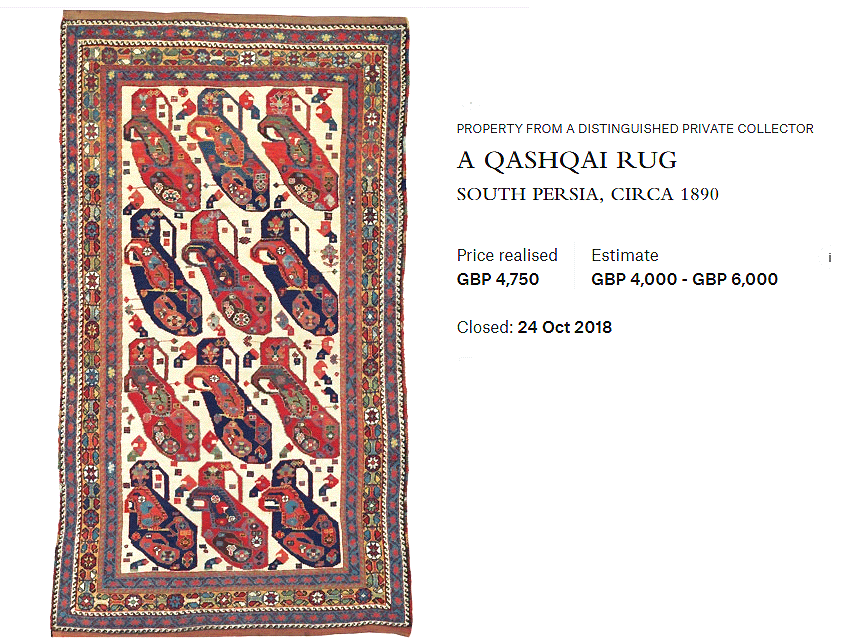 5' 5" × 3' 1" Qashqai carpet c. 1890 with repeated figure composition (overall good condition) -
Christie's - London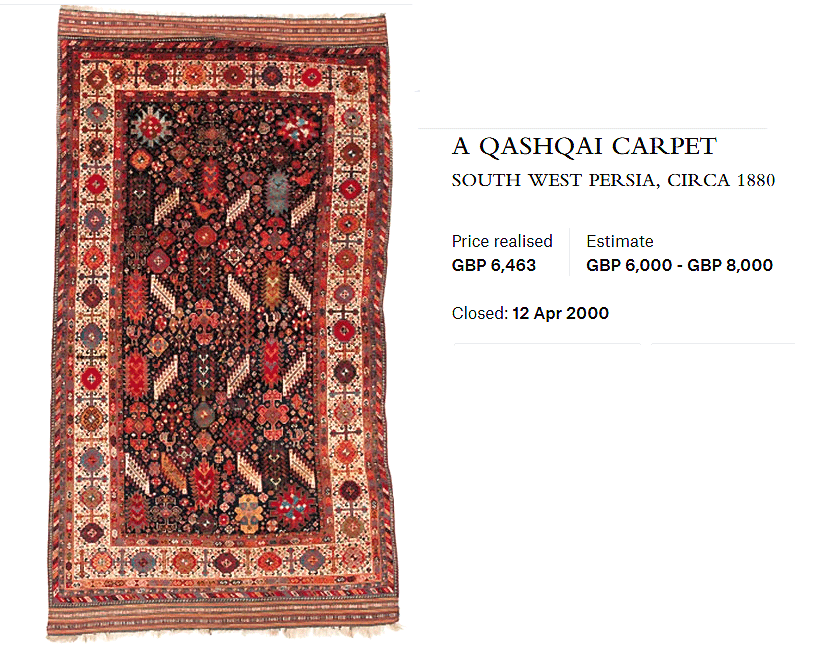 5' 10" × 4' 9" Qashqai carpet c. 1880 with very subtle all-over composition (Excellent condition) -
Christie's - London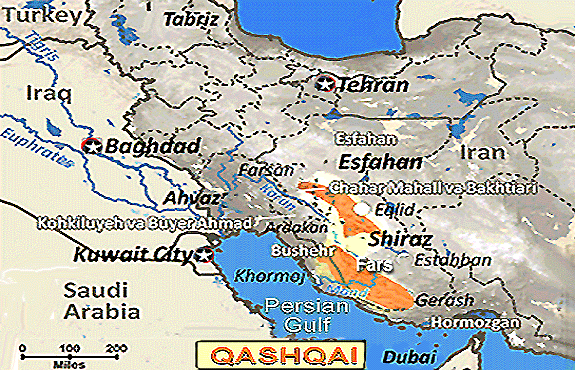 Map showing Shiraz [Orange-color denotes Qashqai territory] and Fars in southwest Iran.
The Rug-Producing Region of Shiraz
"At the heart of Persian culture and the embodiment of its soul." lies the fabled city of Love and Literature whose name was once synonymous with viticulture and poetry - Shiraz. As well as being famous for its wine, it is both a historic site and an attractive modern city that features lush gardens, splendid architecture and shrines to notable writers - such as the one to the famed poet Hafez. Situated inland on the southern part of the Zagros Mountains Shiraz serves as a trading center for the central Zagros region and is linked to the port city of Bushire on the Persian Gulf. Besides agriculture, industry includes cement, sugar and fertilizer factories and textile mills. Skilled labor, such as traditional inlay work, flourishes, as does weaving - especially rugs - in the surrounding regions.
Consumer Notes
Vintage Qashqai rugs feature all-wool construction (warp & weft) and pile - woven at up to 170 KPSI. These rugs are renowned for their durability and longevity with many examples of old carpets surviving intact and in excellent condition. The designs are ecclectic and vary from more-geometric to more subtle - and feature many quite unique pieces.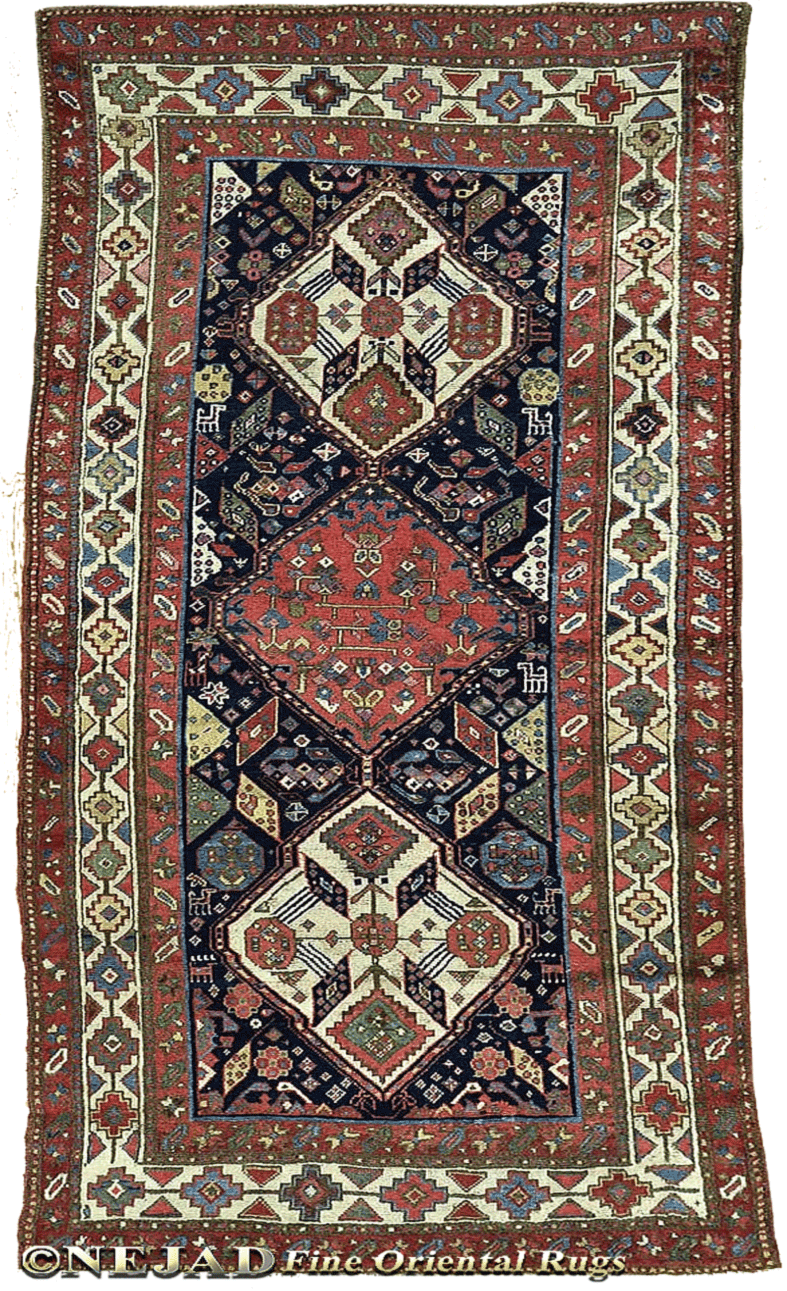 Investment-quality 4' × 8' 7" antique Qashqai carpet in very good condition - Nejad catalog #987831.
Nejad Rugs is a designer, manufacturer and importer of Oriental, antique Oriental and contemporary rugs
and is a member of ORIA - the National Association of Area Rug Importers.
Currently Nejad is offering the following antique Qashqai carpets for sale: #987831 Qashqai c. 1900


About: Tabriz Antique Rugs | Heriz Antique Rugs | Mashhad Antique Rugs | Sarouk Antique Rugs | Kashan Antique Rugs
Kerman Antique Rugs | Serapi Antique Rugs | Bidjar Antique Rugs | Karabagh Antique Rugs | Senneh Antique Rugs
Bakhtiari & Antique Bakhtiari Rugs | Nain and Antique Nain Persian Rugs | Ziegler Mahal Antique Persian Rugs
Esfahan & Antique Esfahan Rugs | Qum Antique Rugs | Farahan Antique Rugs | Darjazin-Hamadan Antique Rugs
Hereke Antique Rugs | Akstafa Antique Rugs | Antique Gharajeh Rugs | Chichi Antique Rugs | Mudjar Antique Rugs
Kazak Antique Rugs | Shirvan Antique Rugs | Beluch Antique Rugs | Peking Antique Rugs | Kurdish Antique Rugs
Turkeman Antique Rugs | Dagestan Antique Rugs | Flemish Antique Tapestry | Antique Ming Chinese Rugs
French Aubusson Antique Tapestry - after Francois Boucher