About Persian Nain Rugs
Overview
Nain, centrally-located in the Iranian province of Esfahan, became a carpet producing center in the 1930's after the decline of its cloth weaving industry, and was renowned for its fine quality carpets of very soft wool, often with silk highlights. The larger carpets of Nain and Tudesh were particularly prized in Iran and Iraq when they were woven, with smaller rugs being woven for export, particularly for the United States.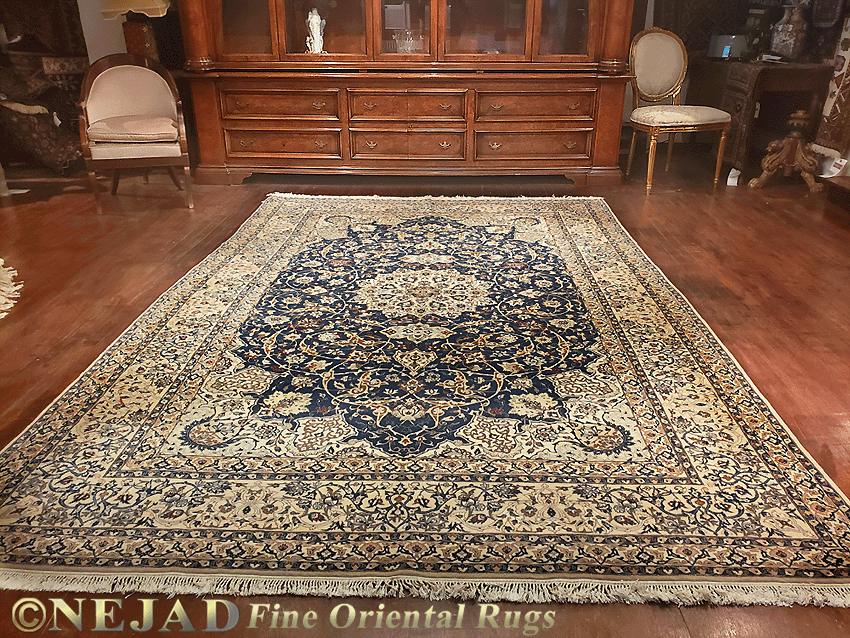 This elegant and finely hand-woven 7' x 10' Nain Persian rug is part of Nejad's extensive inventory of fine Persian area rugs.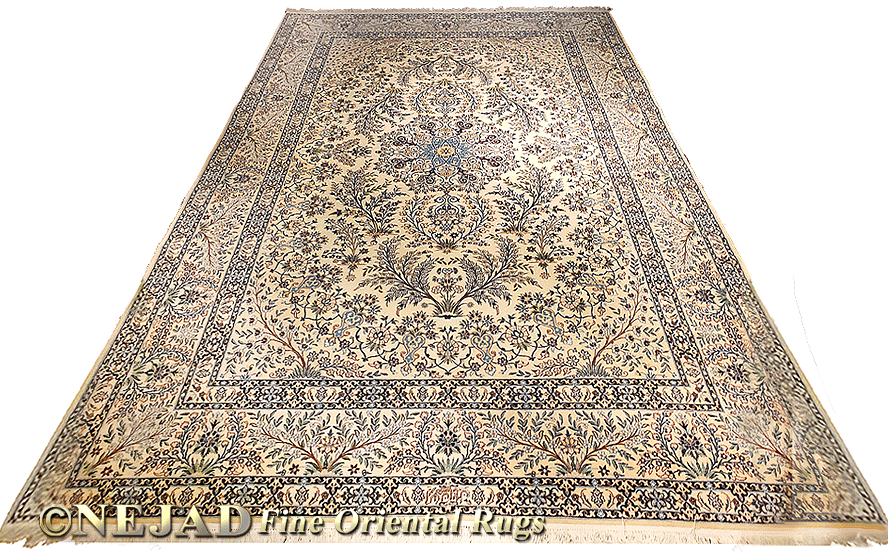 A classic large 6' 8" × 10' 4" Persian Nain silk & wool rug from Nejad's huge inventory of Nain rugs - Stock #987863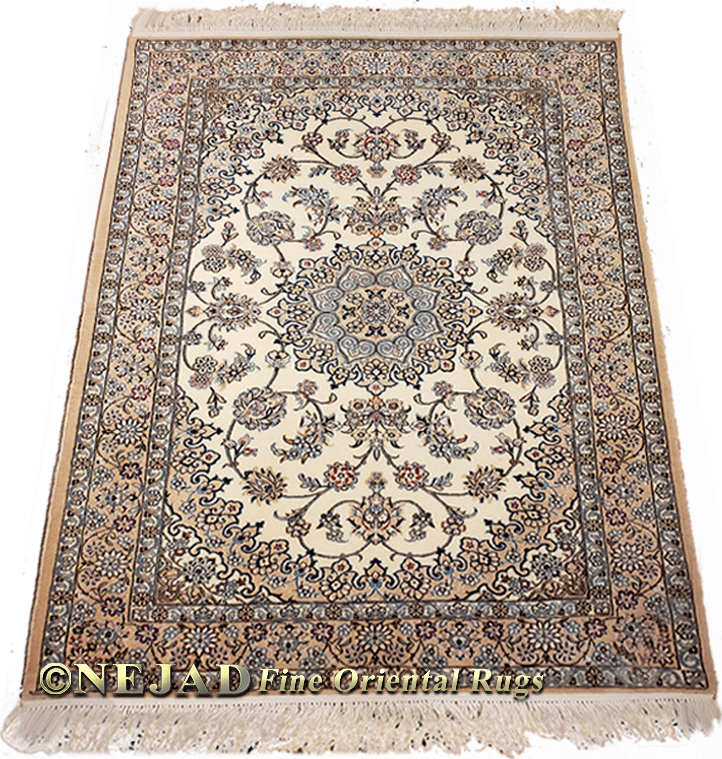 A classic 3' 5" × 4' 9" Persian Nain silk &wool rug from Nejad's huge inventory of Nain rugs - Stock #987865
A Distinctive & Unique Style
The Nain Rug Style - typical theme for the Nain carpet - consists of elaborate and finely-detailed curvilinear, repeated, symmetrical floral patterns that feature a network of scrolling and interlacing foliage surrounding a usually-present center medallion. The arabesque patterns are often interspersed with other repeated elements such as animal or fruit motifs. A few of the distinguishing characteristics of the Nain carpet are a) the use of silk thread which is often used to highlight the detail in the design and b) the high knot density and close-cropped pile, both of which which add to the overall quality and aesthetic appeal of these rugs. With regard to color the Nain carpet typically consists of either earth red or muted blue highlights on a background of ivory or cream, though occassionally this scheme may be reversed.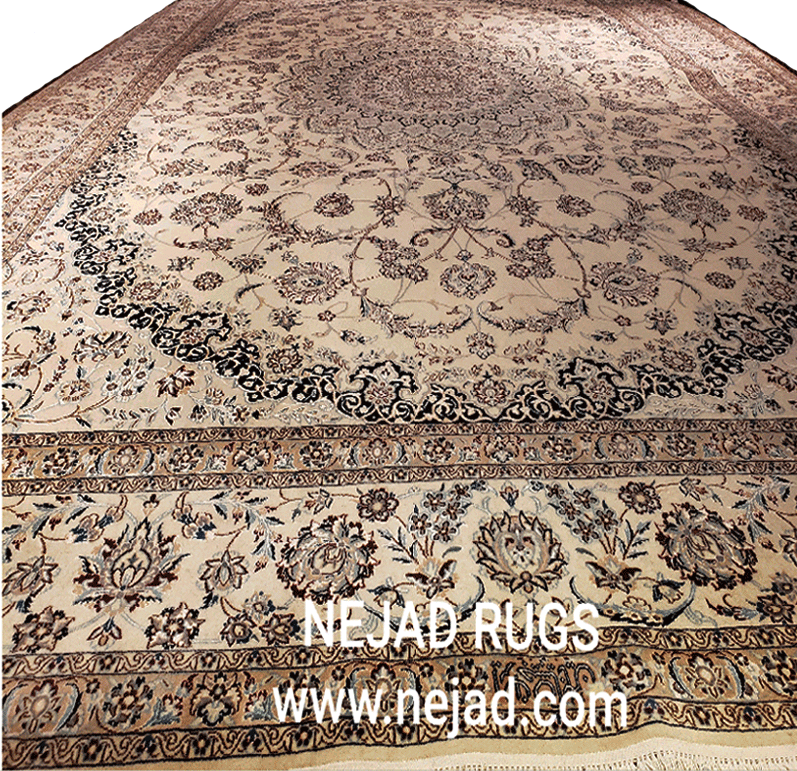 Another classic large 9' 10" × 13' 6" Persian Nain silk & wool carpet #987862 from Nejad's huge rug inventory.
Nain Rugs Sold at Auction by Christie's and Sotheby's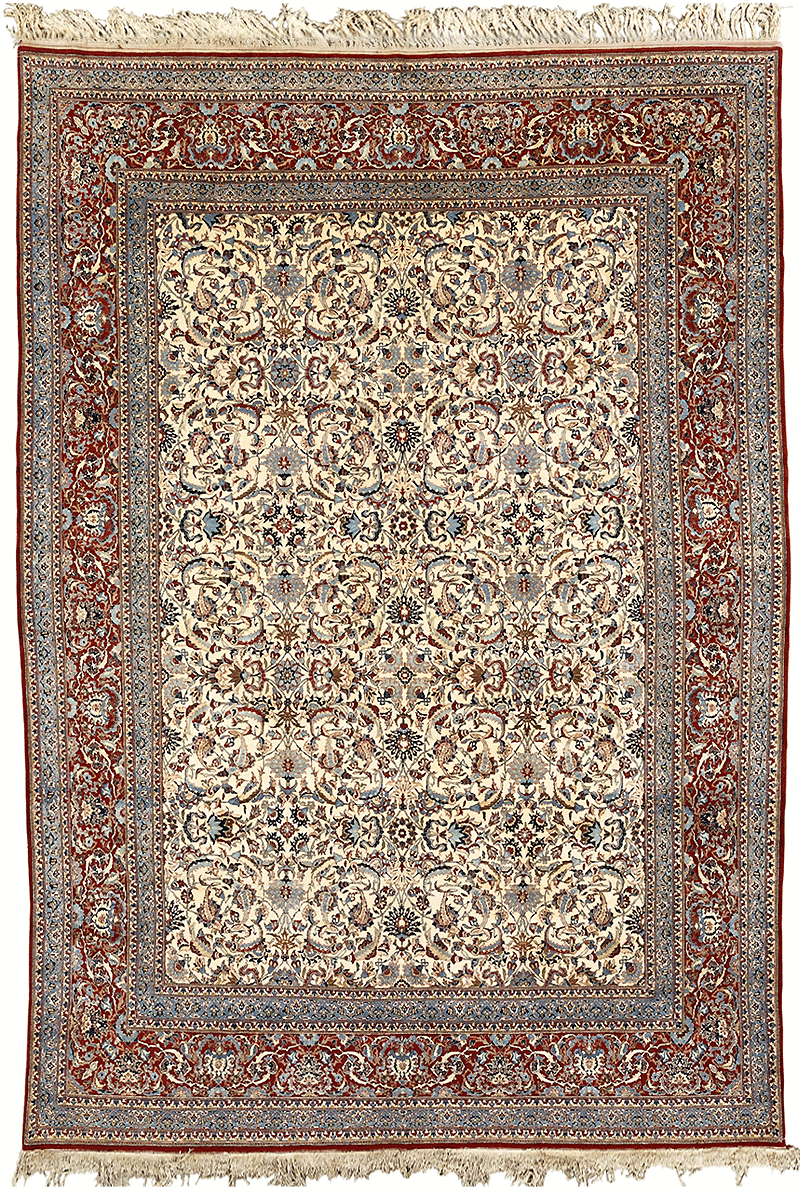 'Tudesh' Nain carpet, Central Persia with silk highlights circa 1935
approximately 303 by 209cm; 9ft. 11in. × 6ft. 10in.
Catalogue Note: Commissioned by the present owner's grandfather in the 1930's, this piece would
therefore be one of the earliest carpets produced in Tudesh, a village located between Nain and
Esfahan and famed for its very finely woven rugs in these styles in the mid 20th century.
Rugs from Distinguished Collections 03 November 2015 2:30 PM GMT Sotheby's London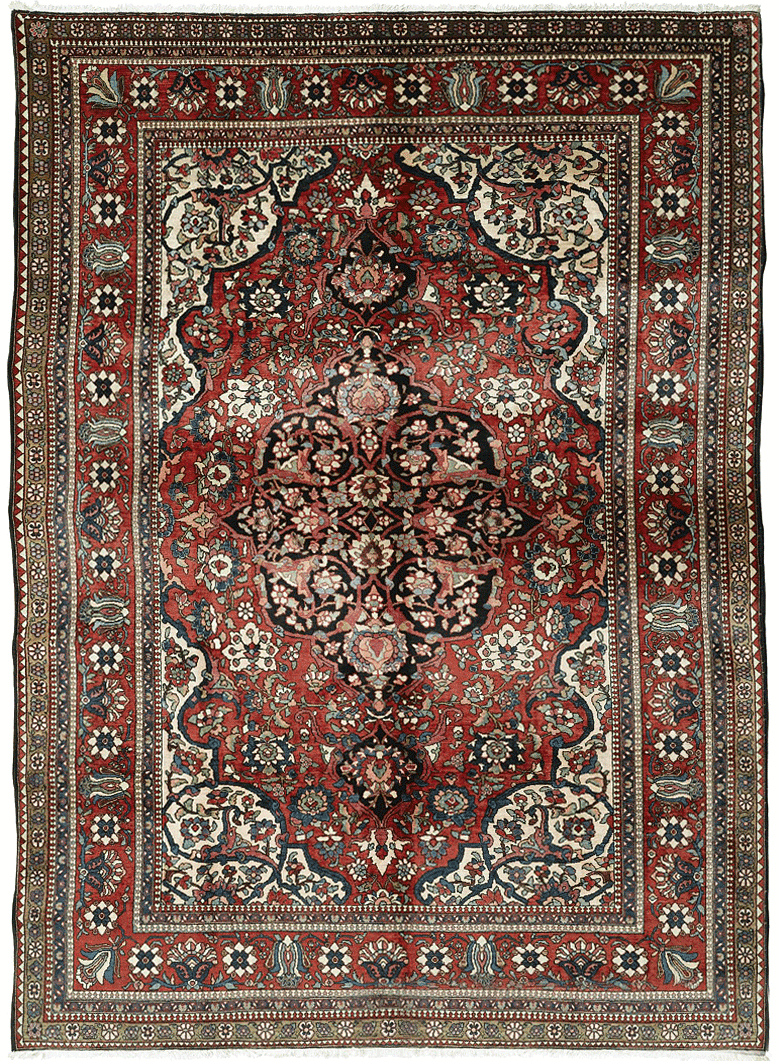 A Nain Carpet, Central Persia, circa 1930
Approx. 324 by 236cm., 10ft. 7in. by 7ft. 9in. reovercast sides, plain brown surround reduced at each end, good pile
Lot Number 27 Sotheby's, London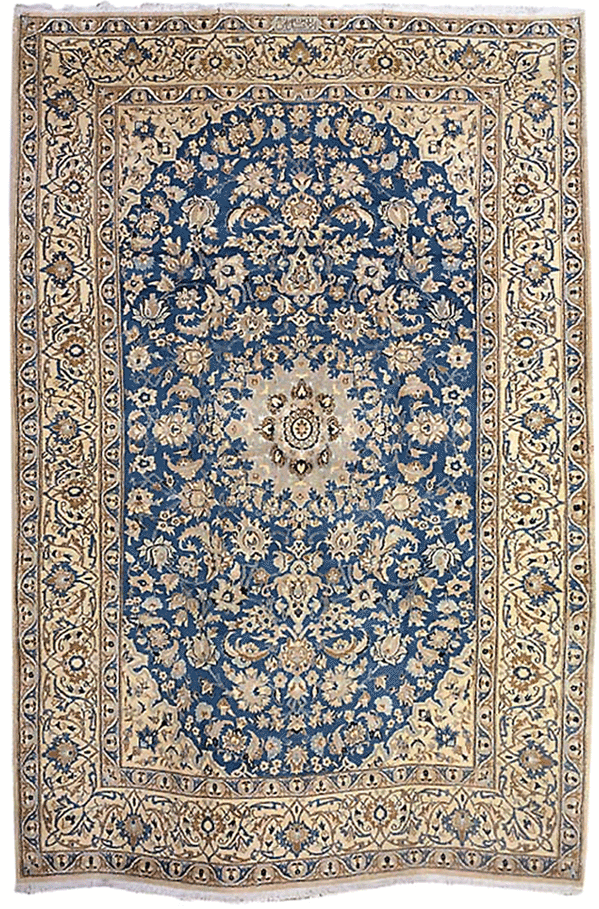 A Fine Part Silk Nain Large Rug, Central Persia
264cm. x 176cm. ( 8ft. 8in. × 5ft. 9in. )
Christies Sale 5179 European Furniture, Works of Art & Carpets London, South Kensington 27 March 2007 Lot 18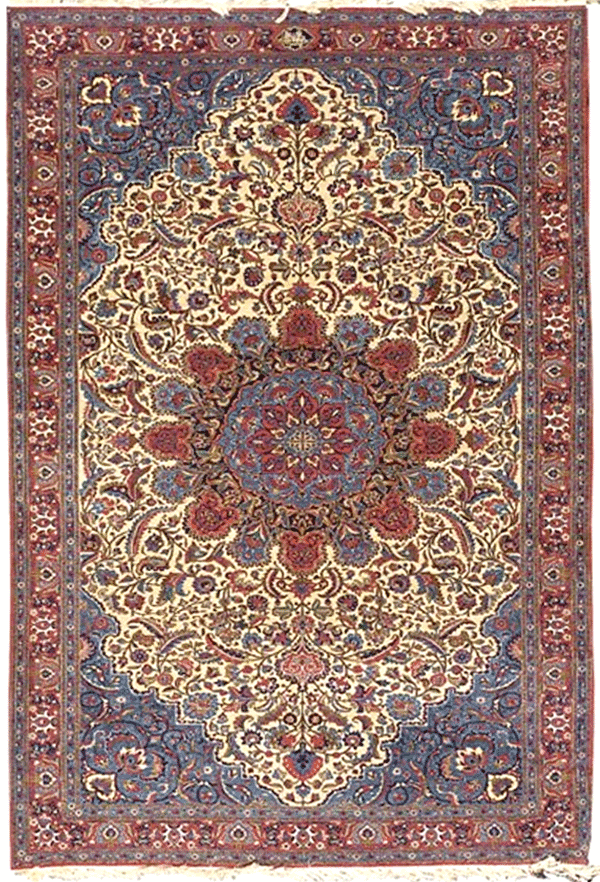 A NAIN CARPET CENTRAL PERSIA, CIRCA 1920
12ft. 6in. × 8ft. 1in. (382cm. × 247cm.) The inscription reads Sadeqi Iran Nayini
Christies Sale 7039 Lot 47 Oriental Rugs and Carpets London

The oatmeal field with linked scrolling leaf and palmette vine around an indigo cusped medallion filled
with wine-red and sky-blue palmettes with scrolling vine enclosing a sky-blue floral centrepiece, in a
wine-red palmette and scrolling leafy vine border between triple floral meander stripes, a signature
cartouche at one end, finely woven with full pile throughout, overall excellent condition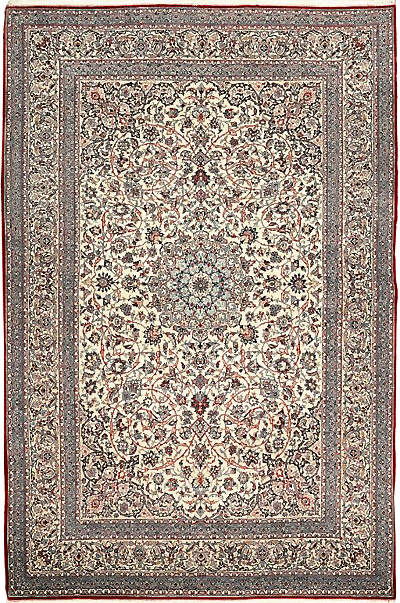 A NAIN CARPET CENTRAL PERSIA, CIRCA 1950
10ft. 9in. × 7ft. 1in. (326cm. × 215cm.) Excellent condition
Christies Sale 7429 Lot 184 Oriental Rugs and Carpets London 25 October 2007
Nain, Iran - Esfahan Province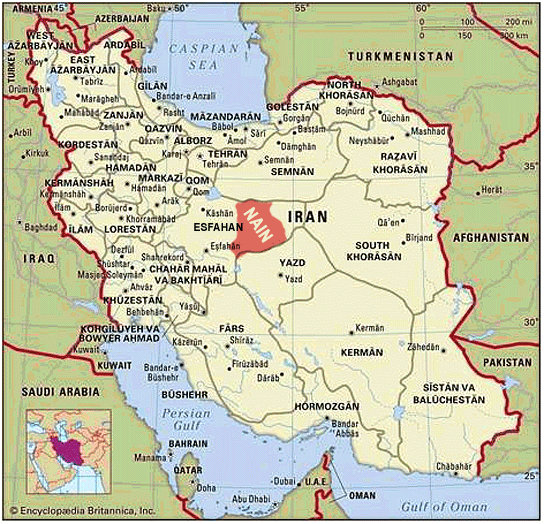 Map of Nain, Iran in Esfahan Province
Nain - also Na'in - is a city and capital of Nain County, Esfahan Province, Iran. At the 2011 census, its population was over 25,000. At 170 km north of Yazd and 140 km east of Esfahan, the city of Nain is nearly at the center of the country. Like much of the Iranian plateau, it has a desert climate and harsh terrain. Except for some desert-type mountains that surround the western and north-eastern parts of the city, the terrain surrounding Nain is a desert with moving sand dunes.
Besides being known for its high-quality carpets Nain is also famous for its notable monuments: The Old Bazaar is one of Nain's notable, historic attractions, extending nearly a quarter-mile in a curved line and connecting main alleys as well as tributary passages to neighborhood centers. Parts of the now-deserted bazaar that had been renovated were active until just a few years ago. Built in the pre-Islamic era, the Castle of Narenj is thought to have been an integral part of the network of fortifications around the city. The famous historian Estakhri mentioned there was once a moat with a 3,000 ft perimeter dug around this castle.
With its deep gardens, silo room and up-to-date facilities the Pirnia traditional house comprises a working model of a self-sustaining environment in a harsh desert climate. Constructed in the Safavid Period and later renovated in 1994, the house has been converted into the Desert Ethnology Museum. The Mosallah edifice is another remarkable monument featuring a vast garden and self-cooled reservoir. Surrounded by pistachio trees encompassed by a military fort with thick high walls, the turquoise-domed octagonal-shaped mausoleum - is characteristic of the architectural style of the Qajar dynasty.
Consumer Notes
Nain rugs are woven with the Persian-type asymmetric knot using high quality wool and silk accents. The materials used in the construction of the finer grade Nain carpet consists of wool on a silk warp or silk in the warp as well as in both the weft and pile. The pile is usually clipped short and the knot density can range up to 700 KPSI (knots per square inch), which is very fine quality. The number of thread layers that have been used in each warp-thread during manufacture determines quality; The lower the number the finer and higher the knot density. It is possible to check how many layers have been used in a carpet by counting the number of threads in one of the fringes of the carpet.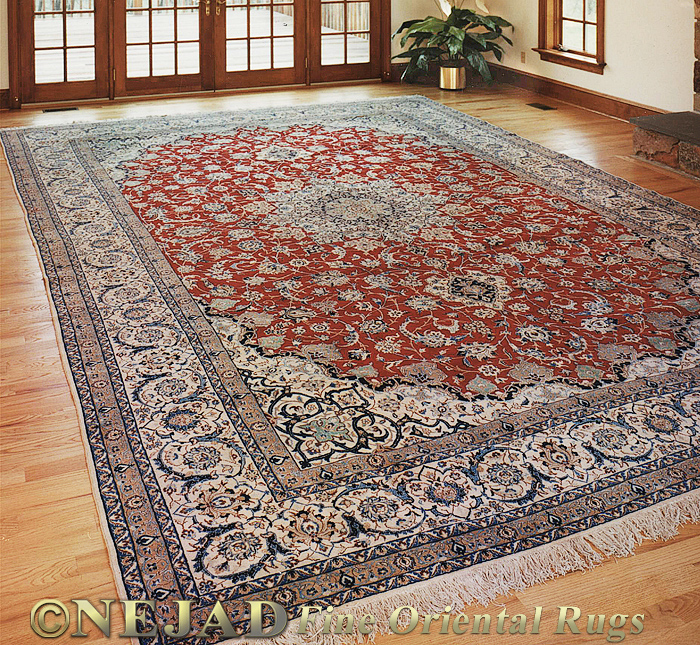 This stunning hand-woven room-sized Nain rug is part of Nejad's extensive inventory of Nain area rugs

About: Tabriz Antique Rugs | Heriz Antique Rugs | Mashhad Antique Rugs | Sarouk Antique Rugs | Kashan Antique Rugs
Kerman Antique Rugs | Serapi Antique Rugs | Bidjar Antique Rugs | Karabagh Antique Rugs | Kazak Antique Rugs
Turkeman Antique Rugs | Kurdish Antique Rugs | Farahan Antique Rugs | Darjazin-Hamadan Antique Rugs
Hereke Antique Rugs | Akstafa Antique Rugs | Mudjar Antique Rugs | Chichi Antique Rugs | Dagestan Antique Rugs
Senneh Antique Rugs | Shirvan Antique Rugs | Beluch Antique Rugs | Peking Antique Rugs | Qum Antique Rugs
Bakhtiari & Antique Bakhtiari Rugs | Gharajeh (Karaja) Antique Rugs | Ziegler Mahal Antique Persian Rugs
Nain and Antique Nain Persian Rugs | Ming Chinese Rugs | Esfahan and Antique Esfahan Rugs
Antique Flemish Tapestry | French Aubusson Antique Tapestry after Francois Boucher